ABOUT THE BOOK
A fresh start for a new life
Newly pregnant, Emma is startled when her husband Luke announces they're swapping homes with his parents, but the rural idyll where Luke grew up is a great place to start their family. Yet Luke's manner suggests something odd is afoot, something that Emma can't quite fathom.
Too many secrets, not enough truths
Emma works hard to settle into her new life in the Yorkshire countryside, but a chance discovery increases her suspicions. She decides to dig a little deeper…
Be careful what you uncover
Will Emma find out why the locals are behaving so oddly? Can she discover the truth behind Luke's disturbing behaviour? Will the pact of silence ever be broken?
BUY LINK:
MY THOUGHTS
Emma loved living in York with the cobbled narrow streets of the Shambles, so she was more than shocked and a little hurt to find out that Luke, her husband and agreed to a swap of properties with his parents, who lived in a village. Luke's dad had to have a hip operation and felt that he wouldn't cope with the stairs too well. Emma had visited Luke's parents but, didn't know anyone that lived in the village. The only positive that Emma could feel about it was that she had just found out that she was pregnant, so it should be healthier to bring up their baby there.
Once the village people knew who she was, they turned cooler towards her and to say that Luke had been born and grew up there, people seemed not just to avoid him but to look at him with disdain. The story continues to be told by Emma, in the present day, and by Luke, as a boy in the past. Both have that sizzling, electric feel that increases with intensity as they grow ever closer to the same point in time.
When Emma meets and makes friends with another outsider, they discover that their husbands used to be best friends and make it their mission to rekindle that friendship again.
It was such a heart in my mouth read, as my head swam with possibilities of what could have happened in the past. There had been more than one occasion that I just wanted Emma to let things lay. The whole atmosphere in the village was becoming affected and it spread. The author moulded these characters so that they could change with events, each one a ticking time bomb, stuck in their worlds of madness, on the breech of being popped.
This author bowled me over yet again.
I wish to thank the publisher for an e-copy of this book which I have reviewed honestly.
ABOUT THE AUTHOR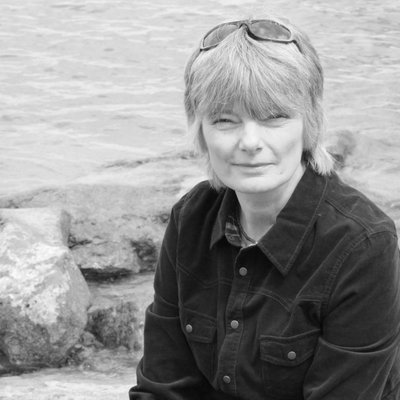 Linda has been writing since she was a child, getting inspiration from everyday events and conversation and always asking: What If? It's a great question. Linda talks about her writing in a short interview here.
​
Twitter @LindaHuber1