Firstly I wish to thank Matt Hutchinson of Penguin Random House for a paper back edition of In Youth is Pleasure by Denton Welch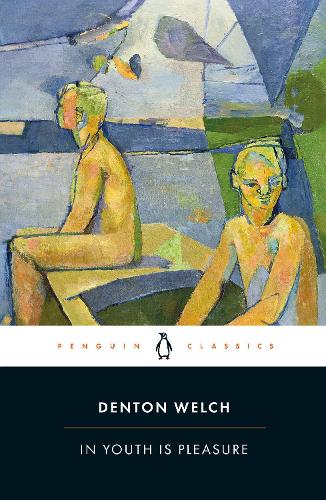 ABOUT THE BOOK
First published in 1945, In Youth Is Pleasure recounts a summer in the life of 15-year-old Orvil Pym, who is holidaying with his father and brothers in a Kentish hotel, with little to do but explore the countryside and surrounding area. 'I don't understand what to do, how to live': so says the 15-year-old Orvil – who, as a boy who glories and suffers in the agonies of adolescence, dissecting the teenage years with an acuity, stands as a clear (marvelously British) ancestor of The Catcher In The Rye's Holden Caulfield. A delicate coming-of-age novel, shot through with humour, In Youth Is Pleasure, has long achieved cult status, and earned admirers ranging from Alan Bennett to William Burroughs, Edith Sitwell to John Waters. 'Maybe there is no better novel in the world that is Denton Welch's In Youth Is Pleasure,' wrote Waters. 'Just holding it my hands… is enough to make illiteracy a worse crime than hunger.'
BUY LINK:
MY THOUGHTS
The book was published in 1945 but takes place before the war. Orvil Pym is a very awkward fifteen-year-old boy. The school has broken up for the summer holidays, and his father has taken his two older brothers and him to stay in a hotel in Kent. His mother died when he was a boy of six, and he doesn't have a close connection to anyone.
Orvil is fighting his internal battles about his sexuality and seems to have done all his life. A lipstick was knocked from the counter in a shop when he was younger, and as he bent down, he palmed it saying, it had gone under the counter. Later he would experiment with it. He hates everything at the moment, his father, his brothers and everything and everyone at school.
The saving grace of the hotel is its vast grounds and countryside that surrounds it. Although he hates being with people, he is a voyeur, often spying on unsuspecting guests. It was at these times that he came to life. Once seeing a man and two young boys in a shed, he went back when the man was on his own. The man toyed with him, having him do the most bizarre things while Orvil seemed to get more daring. It was Orvil's summer of self-discovery, told in the most surreal way.
I loved the text, with some words that were unfamiliar to me, the English language then was more poetic than it is now. It is a daring, and fabulous book of its time. A true classic.
ABOUT THE AUTHOR
Denton Welch was born on 29 March 1915 in Shanghai, the youngest of three brothers. Welch was sent back to England to attend St Michael's prep school in Uckfield, and then Repton School, where his main achievements were in art. Soon after his sixteenth birthday he ran away from school. With his family's approval he enrolled at the Goldsmiths' School of Art in April 1933 to study painting. He showed great promise as an artist but in June 1935, while still a student, he was knocked off his bicycle by a motorist, severely damaging his spine and kidneys; for the rest of his life he was a semi-invalid. Welch settled in Kent, in a succession of rented flats and cottages. His final home was in the village of Crouch, where his faithful friend Eric Oliver cared for him until his premature death on 30 December 1948. –This text refers to the hardcover edition.