WHAT THE BOOK IS ABOUT
IN THE JAPANESE UNDERWORLD OF DRUGS, GUNS, AND CRIME… ONE WOMAN HOLDS THE KEY TO TAKING DOWN AN EMPIRE.
CIA officer Hannah Summers is dispatched to the South Pacific with one simple objective: discover the source of heroin being trafficked to the United States, and destroy it before another shipment hits the streets of San Francisco.
But on the coral island of Saipan, the yakuza — powerful, elaborately-tattooed Japanese gangsters — have no intention of allowing Hannah and her partners to interfere with business.
With bodies beginning to pile up on the tiny island and tensions mounting between yakuza and local law enforcement, it could be the perfect opportunity for a plucky, blonde undercover agent to infiltrate Orochi "Big Snake" Tanaka's organization.
Or, it could prove a fatal mistake…
PACIFIC POISON is an action-packed thriller set on the tropical island of Saipan, inspired in part by the author's extensive coverage of South Pacific drug trafficking during his work as an investigative reporter.
BUY LINK:
Pacific Poison: A Yakuza Japanese Underworld Thriller
MY THOUGHTS
This is the first time that I have read about the Japanese Yakuza the equivalent of the Mafia and it was superb. When two USA operatives go missing while investigating how heroin is finding its way into America CIA officer Hannah Summers is sent to ensure that the next shipment doesn't make it and find out what happened to her colleagues.
There are a few storylines, all revolving around the boss of the Yakuza, a man that commands loyalty of the people that work for him. Anyone that betrays him faces a pretty grim ending. I will say this for him, he is inventive with his methods.
Summers is a tremendous character that takes chances far beyond comfortable, not just with the Yakuza boss but with her personal life too especially when both men in her life become part of the investigation. There are some real tense times. Summers definitely likes the thrill of adventure as she puts herself at the centre of it all. She goes in and thinks later and always seems ready for anything the comes her way. A superb character.
This story has everything going for it. The action is fast following, the bad guys brutal and there is even love in the air. If you love a great thriller than do read this. This is an awesome read.
ABOUT THE AUTHOR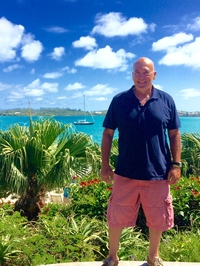 DAVID LISCIO is an international, award-winning photojournalist whose lengthy experience covering crime stories led to the writing of the Amazon crime fiction bestseller DEADLY FARE, a serial-killer thriller.
An investigative reporter, David's work has appeared in dozens of magazines and newspapers. The recipient of more than 20 journalism honors, his feature stories have earned first-place awards from the Associated Press, United Press International and many regional news media groups. He has reported extensively on organized crime in both the United States and abroad, in addition to writing about environmental and military subjects.
David is an avid sailor, outdoorsman, and adjunct college professor. A father of two, he lives with his wife, dog and cat on the Massachusetts coast, where he served for 25 years as a call firefighter and founded the town's Ocean Rescue team.
David's second novel, the mafia saga BLOOD SONS, was published in 2018. His latest book, PACIFIC POISON, a yakuza Japanese underworld thriller, was released in June 2020.
Website http://www.davidliscio.com
Twitter: @DavidLiscio
Subscribe to David's newsletter: http://eepurl.com/dtek75