Today I am re-sharing my original review for Body Breaker by Mike Craven including the brilliant new cover.
BOOK DESCRIPTION
The second dark and twisted thriller in the Avison Fluke series by M. W. Craven, the acclaimed author of The Puppet Show.
Investigating how a severed hand ends up on the third green of a Cumbrian golf course is not how Detective Inspector Avison Fluke has planned to spend his Saturday. So when a secret protection unit from London swoops in quoting national security, he's secretly pleased.
But trouble is never far away. A young woman arrives at his lakeside cabin with a cryptic message: a code known to only a handful of people and it forces Fluke back into the investigation he's only just been barred from.
In a case that will change his life forever, Fluke immerses himself in a world of New Age travellers, corrupt cops and domestic extremists. Before long he's alienated his entire team, has been arrested under the Terrorism Act – and has made a pact with the Devil himself. But a voice has called out to him from beyond the grave. And Fluke is only getting started…
BUY LINK:
HERE ARE MY THOUGHTS AND REVIEW
You know when you read about a character for the first time and you know that you are going to click, well that is how my first encounter with DI Avison Fluke was in this book. Yes I know this is the second book in the series and at times, when I was reading, I just got those twinges of wishing I had read the first book, but just because I wanted to know more about his past, not because it spoilt this book in any way.
Now I love a book with a bit of gruesome, gangish, psycho sort of story, which is provided superbly, but throw in humour too and wow you have got me. Well, DI Fluke and his partner DS Towler bounce off each other like a pair of rubber balls against a wall. But the special connection they have goes way beyond that both having served in special forces. It does mean that not a lot really gets under their skin but there is also that dark side, especially with Towler, that raises its head and oh my when it does you can sit back for quite a spectacular show.
When the body parts of a man are discovered on a Cumbrian Golf Course Fluke is happy to pass the case over to a secretive unit from London that arrives within the bat of an eyelid to take it over. Well, that is until his past comes hurtling into the present. Fluke is then on a mission and will deal with the Devil to find out the truth.
I must say do give yourself a clear few hours to read this because you just won't put it down. This isn't a bam bam bam story, this is investigating at its finest, when Fluke feels he is onto something he will go against everyone, including his own team,  when his instincts kick in.  There are times when turning a blind eye to crime is less devastating than actually intervening.
Mike Craven's writing is very addictive, he is definitely my new guilty pleasure.
HERE, IS A LITTLE ABOUT THE AUTHOR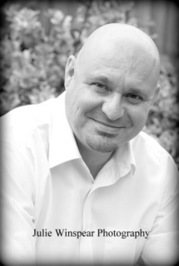 M. W. Craven was born in Carlisle but grew up in Newcastle, running away to join the army at the tender age of sixteen. He spent the next ten years travelling the world having fun, leaving in 1995 to complete a degree in social work with specialisms in criminology and substance misuse. Thirty-one years after leaving Cumbria, he returned to take up a probation officer position in Whitehaven, eventually working his way up to chief officer grade. Sixteen years later he took the plunge, accepted redundancy and became a full-time author. He now has entirely different motivations for trying to get inside the minds of criminals . . .
The Puppet Show, the first in a two-book deal he signed with the Little, Brown imprint, Constable in 2017, was released to critical acclaim in hardback in 2018. It has been sold in numerous foreign territories and the production company Studio Lambert, creators of the award-winning Three Girls, have optioned it for TV. The sequel, Black Summer, follows in June 2019.
M. W. Craven is married and lives in Carlisle with his wife, Joanne. When he isn't out with his springer spaniel, or talking nonsense in the pub, he can be found at punk gigs and writing festivals up and down the country.
AUTHOR LINKS:
Twitter: M.W. Craven