BOOK DESCRIPTION
Their parents thought they were hiding…
One beautiful summer's evening, thirteen-year-old twins Ivy and Erin Westmore snuggle down in a tent in their back garden, giggling and sharing secrets.
When their mother goes to wake the girls the next morning, their tent is empty.
The alarm is raised and Detective Natalie Ward is put onto the case. When the twins' bodies are discovered on nearby marshland, covered with deep pink petals, an icy shiver travels down Natalie's spine. Everything about the girls' deaths reminds her of a horrifying case she worked on earlier in her career, which saw a killer of the worst kind placed behind bars.
The next day, that feeling is heightened when she receives a chilling note saying 'I'm back'. Is this killer a copycat or did Natalie put the wrong person in prison all those years ago? In a small town, where no stranger goes unnoticed, what is Natalie missing?
Consumed by the case, determined to prevent more deaths, Natalie misses the fact that it is her attention the killer wants. And to get it, he has his sights set firmly on her precious daughter Leigh…
Gripping, fast-paced and nail-bitingly tense, this book will keep you flying through the pages long into the night. Perfect for fans of Angela Marsons, Rachel Abbott and Karin Slaughter.
BUY LINK:
The Blossom Twins: An absolutely gripping crime thriller (Detective Natalie Ward Book 5)
HERE ARE MY THOUGHTS AND REVIEW
When a young girl, that disappeared at a concert is found dead the following day, there is something that niggles Detective Natalie Ward from the past. Then when twins go missing during a camping night out, in their own garden, and are then both found dead, Natalie's worst nightmare is about to begin. The past isn't just rearing its ugly head it has come to devour her.
This must be every detective's worse nightmare! Natalie wasn't only heading the investigations into the murders of three young girls that were obviously connected but she was also in turmoil that the man who had been convicted of identical crimes, a few years early, had been innocent. A taunting note from the murderer confirmed her suspicions.
Natalie is pulled to pieces in her personal life too as her marital problems surface and tough decisions have to be made that will affect not just her and David but their children too. The more I read the more it made my blood run cold at how vulnerable and gullible we are no matter how many times we read about safety.
The no holds barred writing is gritty and never pulls punches. You feel what is going to happen before it does but you can't stop reading. I admit to being an emotional listener to books. The last few chapters I wouldn't have been able to read myself, listening gave the story a constant flow for me and it was incredible. The atmosphere tingled, ridged feelings were so intense with lines that couldn't be crossed. This was so very powerful!
This was an emotional read from the start but by the end of the book the characters had been put through a shredder and it would be an impossible task to ever pieces them back together as they had been before. I crumbled and was in pieces and have had to write this review a week after I finished the book. I just couldn't face doing it before now.
I wish to thank NetGalley and the publisher for an e-copy of this book which I have reviewed honestly.
HERE, IS A LITTLE ABOUT THE AUTHOR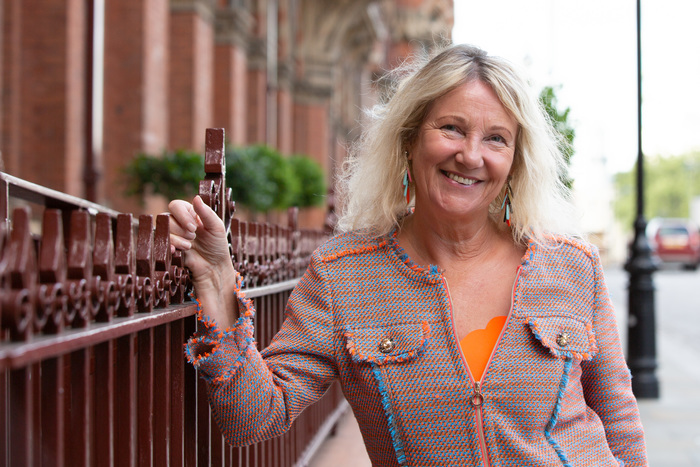 Carol Wyer is an award-winning author and stand up comedian who writes feel-good comedies and gripping thrillers.
Her book, GRUMPY OLD MENOPAUSE won The People's Book Prize Award for non-fiction 2015.
Carol moved to the 'dark side' in 2017 with the first Di Robyn Carter thriller. LITTLE GIRL LOST became the #2 best-selling book on Amazon, #9 best-selling audiobook on Audible and a Top 150 USA Today best-seller.
To date the DI Robyn Carter and DI Natalie Ward series have sold over half a million copies, earning her acclaim as a crime writer.
2019 sees the release of two romantic comedies and three DI Natalie Ward novels, including the much anticipated THE DARE and THE SLEEPOVER.
Carol has been interviewed on numerous radio shows discussing "Irritable Male Syndrome' and 'Ageing Disgracefully' and on BBC Breakfast television. She has had articles published in national magazines 'Woman's Weekly' featured in 'Take A Break', 'Choice', 'Yours' and 'Woman's Own' magazines and the Huffington Post.
AUTHOR LINKS:
Twitter: @carolewyer
Website