BOOK DESCRIPTION
Jared Keaton, chef to the stars. Charming. Charismatic. Psychopath . . . He's currently serving a life sentence for the brutal murder of his daughter, Elizabeth. Her body was never found and Keaton was convicted largely on the testimony of Detective Sergeant Washington Poe.
So when a young woman staggers into a remote police station with irrefutable evidence that she is Elizabeth Keaton, Poe finds himself on the wrong end of an investigation, one that could cost him much more than his career.
Helped by the only person he trusts, the brilliant but socially awkward Tilly Bradshaw, Poe races to answer the only question that matters: how can someone be both dead and alive at the same time?
And then Elizabeth goes missing again – and all paths of investigation lead back to Poe.
BUY LINK:
Black Summer (Washington Poe Book 2)
HERE ARE MY THOUGHTS AND REVIEW
The opening scene feels quite intimate in a bizarre way as I was introduced to a confident gentleman in the three-star Michelin restaurant that he owns, he is entertaining another man, who seems quite out of place. The main course is that of a small bird called Ortolan Bunting, that has to be prepared in a rather unique way which is both fascinating and macabre. The story jumps back two weeks to a young woman who was thought to have been murdered but has clearly come back from the dead seven years later.
I was thrilled to be back with Detective Sargeant Washington Poe and his super side-kick of a partner Tilly Bradshaw. What an incredible pairing they are. Tilly seems a little more confident in this book although still a social misfit, not that she would ever notice. She made me laugh and smile at the most inopportune moments and love that she has created her own band of out of the box thinking misfits like herself.
Poe is in deep trouble in this story as a past open and shut case becomes a nightmare that could ruin him and end his career and freedom. Poe's frustration just oozes from these chapters but his gut feeling still won't believe the undeniable facts. Jared Keaton is smarmy and arrogant and loves himself above all others. Yes, the traits of a really nasty psychopath with an unstoppable need to be top no matter what it takes.
This is a brilliant twisty story that will entertain readers of this young series or as a standalone read. Loving both books so far and can't wait for the next encounter with Poe and Tilly at the helm.
I wish to thank NetGalley and the publisher for an e-copy of this book which I have reviewed honestly.
HERE, IS A LITTLE ABOUT THE AUTHOR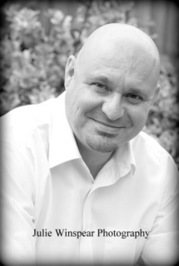 M. W. Craven was born in Carlisle but grew up in Newcastle, running away to join the army at the tender age of sixteen. He spent the next ten years travelling the world having fun, leaving in 1995 to complete a degree in social work with specialisms in criminology and substance misuse. Thirty-one years after leaving Cumbria, he returned to take up a probation officer position in Whitehaven, eventually working his way up to chief officer grade. Sixteen years later he took the plunge, accepted redundancy and became a full-time author. He now has entirely different motivations for trying to get inside the minds of criminals . . .
The Puppet Show, the first in a two-book deal he signed with the Little, Brown imprint, Constable in 2017, was released to critical acclaim in hardback in 2018. It has been sold in numerous foreign territories and the production company Studio Lambert, creators of the award-winning Three Girls, have optioned it for TV. The sequel, Black Summer, follows in June 2019.
M. W. Craven is married and lives in Carlisle with his wife, Joanne. When he isn't out with his springer spaniel, or talking nonsense in the pub, he can be found at punk gigs and writing festivals up and down the country.
AUTHOR LINKS:
Twitter: M.W. Craven