BOOK DESCRIPTION
She said she'd gone to a sleepover. But she never made it. Someone must know why…
When Detective Natalie Ward is called to the home of fourteen-year-old Roxy Curtis she can't help but empathise with Roxy's distraught mother Cathy. Roxy hasn't come home, last seen heading next door for a sleepover with her best friend Ellie. As the mother of two teenagers herself, Natalie knows that this is every parent's worst nightmare.
But when Roxy's body is found in the basement of a beautiful Victorian mansion on the other side of town, Natalie's darkest fears are confirmed. What was Roxy doing there? The people who knew her best should know – but Cathy seems evasive, and Ellie refuses to talk. Natalie is determined to find out what secrets they are keeping…
Then Roxy's mother Cathy disappears.
When her body is found two days later, Natalie is forced to face the fact that Roxy's loved ones are in real danger. Things take a more sinister turn when Ellie vanishes, her mobile phone switched off. Is Ellie hiding something about the night Roxy died that could put her in terrible danger? And can Natalie work it out before another innocent life is taken?
Gripping, fast-paced and nail-bitingly tense, this book will keep you flying through the pages long into the night. Perfect for fans of Angela Marsons, Rachel Abbott and Karin Slaughter.
Readers are going crazy for The Sleepover:
BUY LINK:
The Sleepover: An absolutely gripping crime thriller (Detective Natalie Ward Book 4)
HERE ARE MY THOUGHTS AND REVIEW
One thing that I can never understand it not having that second sense as a mother to know when something has happened to my children and that is how it was with Cathy when Detective Natalie Ward came knocking on her door, to tell her that her 14-year-old daughter had been identified through medical records, as the victim of a house fire. As far as her mum was concerned, Roxy was on a sleepover at her best friend's house only round the corner, not at the other end of town.
The case opens up a tin of worms as there doesn't seem any connection to Roxy and the house or its owners in the more affluential part of town to where she and her family lived. As the case unfolds so does the seedier lives of family and friends making them all suspects in both the arson attack on the property and the death of this young girl. Are they even connected? There are more deaths to follow as the case intensifies, working hours get longer and home life suffering for Natalie.
My mind spun trying to work out who the murderer was and why? I changed how I saw the people in the story the more I got to know them and was truly shocked at the ending.
I love this Detective Natalie Ward series as she gains confidence in each case that she tackles at work. It is there that she comes to life, has things in under control and people that respect her, which is a far cry from her home life. Natalie's husband David is trying and failing to deal with his gambling addiction, something that just won't go away. His inability to get employment and looking after his two teenage children, virtually single-handed has spiraled him into depression and his own mind. Natalie although dealing with people from all walks of life seems unable to take the rose-coloured spectacles off at home and see what is going on under her own nose. Yes, she recognises problems in her marriage but has other ways on her mind to resolve them.
A terrific series.
HERE IS A LITTLE ABOUT THE AUTHOR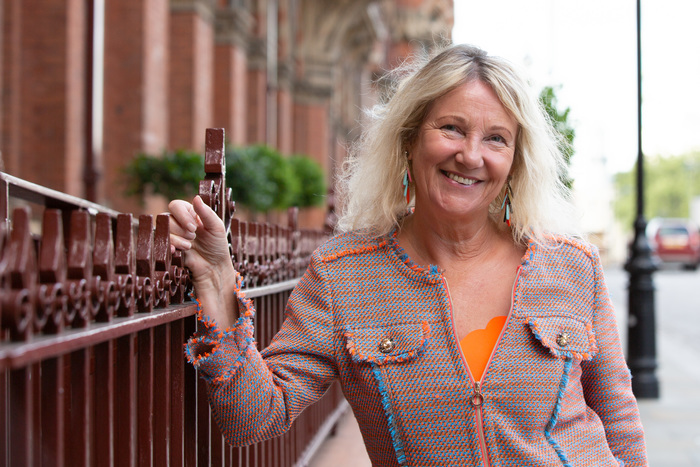 Carol Wyer is an award-winning author and stand up comedian who writes feel-good comedies and gripping thrillers.
Her book, GRUMPY OLD MENOPAUSE won The People's Book Prize Award for non-fiction 2015.
Carol moved to the 'dark side' in 2017 with the first Di Robyn Carter thriller. LITTLE GIRL LOST became the #2 best-selling book on Amazon, #9 best-selling audiobook on Audible and a Top 150 USA Today best-seller.
To date the DI Robyn Carter and DI Natalie Ward series have sold over half a million copies, earning her acclaim as a crime writer.
2019 sees the release of two romantic comedies and three DI Natalie Ward novels, including the much anticipated THE DARE and THE SLEEPOVER.
Carol has been interviewed on numerous radio shows discussing "Irritable Male Syndrome' and 'Ageing Disgracefully' and on BBC Breakfast television. She has had articles published in national magazines 'Woman's Weekly' featured in 'Take A Break', 'Choice', 'Yours' and 'Woman's Own' magazines and the Huffington Post.
AUTHOR LINKS:
Twitter: @carolewyer
Website