BOOK DESCRIPTION
This is a story for anyone who has ever felt like they don't belong.
'Keep the tissues close' Good Housekeeping
'This gem of a novel entertains and moves in equal measure' Daily Mail
'Heartening and hopeful' Jess Kidd, author of Things in Jars
'Mesmerizingly beautiful' Sarah Haywood, author of The Cactus
'An extraordinary masterpiece' Anstey Harris, author of The Truths and Triumphs of Grace Atherton
'Gutsy, endearing and entertaining' Deborah Orr
'Absolutely brilliant' Gavin Extence, author of The Universe Versus Alex Woods
_____________________________________________________________
Augusta Hope has never felt like she fits in.
At six, she's memorising the dictionary. At seven, she's correcting her teachers. At eight, she spins the globe and picks her favourite country on the sound of its name: Burundi.
And now that she's an adult, Augusta has no interest in the goings-on of the small town where she lives with her parents and her beloved twin sister, Julia.
When an unspeakable tragedy upends everything in Augusta's life, she's propelled headfirst into the unknown. She's determined to find where she belongs – but what if her true home, and heart, are half a world away?
_____________________________________________________________
AUGUSTA MAY NOT FEEL LIKE SHE FITS IN, BUT READERS ARE FALLING IN LOVE WITH HER…
BUY LINK:
The Other Half of Augusta Hope
HERE ARE MY THOUGHTS AND REVIEW
I love stories with quirky characters that walk out of step with the rest of society and Augusta Hope is certainly up there with top favourites.
Augusta is a twin but she is as different from her sister as the other side of a coin. Their mother adores Julia, born on the last day of July, and her father is proud of his obedient daughter but Augusta born on the first day of August, constantly questions the world and is totally headstrong. I knew from the first couple of chapters that this was going to be an unpredictable and compelling story for me. It was that and more.
For all their differences, the girls had that bond of being twins but as they grew older they looked as different outside as they were inside, their lives were to take very different paths. The story branches into three, the two girls and a young man whose only connection to the story, to begin with, is from the day Augusta chose the country he lives in as her favourite place in the world because she liked the sound of the name, although she knew nothing of it.  I loved Augusta's strong will and the principles that she fought for, even as a child. She could see past the shell of people and it was pure magic.
This isn't a story about an event, this is a story about life. Relationships, love, loss and family. It is quirky, funny, beautiful and heartbreaking. I laughed and I cried. I didn't want Augusta to fit in, I wanted everyone to fit her. This story will stay with me, one of many this year. Beautifully written, moving and as unique as Augusta.
I wish to thank NetGalley for an e-copy of this book which I have reviewed honestly.
HERE IS A LITTLE ABOUT THE AUTHOR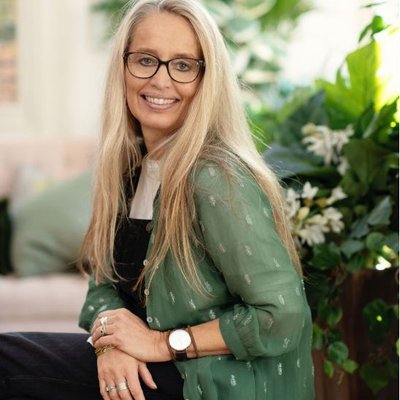 Joanna Glen read Spanish at the University of London, with a stint at the Faculty of Arts at Córdoba University in the south of Spain. She went on to teach Spanish and English to all ages, and, latterly, was a school principal in London. Joanna's short fiction has appeared in the Bath Flash Fiction Anthology. She lives with her husband and children on the River Thames in Battersea, returning to Andalusia whenever it gets too grey.
AUTHOR LINKS:
Twitter: @JoannaGlenBooks