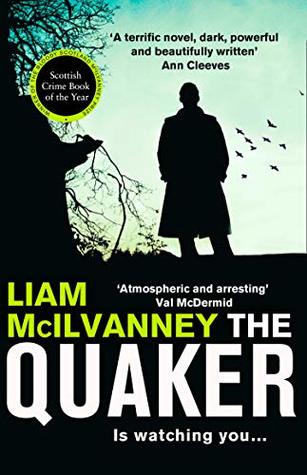 BOOK DESCRIPTION
Glasgow, 1969. In the grip of the worst winter for years, the city is brought to its knees by a killer whose name fills the streets with fear: The Quaker. He's taken his next victim — the third woman from the same nightclub — and dumped her in the street like rubbish. The police are left chasing a ghost, with no new leads and no hope of catching their prey. After six months, DI Duncan McCormack, a talented young detective from the Highlands, is ordered to join the investigation — with a view to shutting it down for good.
His arrival is met with anger from a group of officers on the brink of despair. Soon he learns just how difficult life can be for an outsider, for McCormack is an outcast in more ways than one. When another woman is found murdered in a tenement flat, it's clear the case is by no means over. From ruined backstreets to the dark heart of Glasgow, McCormack follows a trail of secrets that will change the city — and his life — forever . . .
Brilliantly crafted with great depth and nuance, The Quaker is an electrifying thriller that expertly captures the gritty atmosphere of paranoia and hopelessness in a city on the verge of a great upheaval.
BUY LINK:
HERE ARE MY THOUGHTS AND REVIEW
When the local Glasgow police force become the brunt end of jokes by the press and locals it was time to bring in someone to observe the officers conducting the investigation into a serial killer nick named The Quaker. The Quaker had now brutally murdered three local women after each of them had left the same night club in a matter of weeks. Six months on the three investigating officers were still no closer to finding the killer.
The year is 1969, forty years off the technical advancements of today, so policing was vastly different. DI Duncan McCormack is simply an observer brought into ensure what has been done is enough to move this investigation into the cold case files that have not been solved. The existing team is not only frustrated at the lack of progress that they have been able to make but also that this whiz kid of a DI is there to find fault not help the situation. That is until another woman is murdered, then it is game on.
This is a very haunting read, with the murdered victims having their say in the story after they have died. How they met this man, the night out and their subsequent murders, even how they saw past the time of their deaths and reaction of their loved ones. Very cleverly done, very touching and emotional. It made the deaths of these at first faceless women, real and more personal. A real clever touch.
I took to McCormack straight away as he wasn't prepared to just roll over to get a conviction like some were chasing. It mattered to him that the right man should be brought to justice. For McCormack it was like shaking a tree to see how many bad apples would fall off. This story is set in 1969, with not just technology that was out of sync with today. McCormack has to make a huge personal decision too, One that could have made this series into a stand alone.
Very much looking forward to more from this author, Excellent story and characters.
HERE IS A LITTLE ABOUT THE AUTHOR
Professor Liam McIlvanney, the son of novelist William McIlvanney, was born in Kilmarnock in Ayrshire, and studied at Glasgow and Oxford Universities. After ten years lecturing in Scottish and Irish literature at the University of Aberdeen, he moved to Dunedin in New Zealand to teach at the University of Otago. He lectures in Scottish literature, culture and history, and on Irish-Scottish literary connections, and holds the Stuart Professor of Scottish Studies chair at the University.
He won a Saltire Award for his first book, Burns the Radical, in 2002. A chance meeting with an editor for Faber and Faber persuaded him to turn to fiction, and his first novel, All the Colours of the Town, was published in 2009 to great acclaim. His second thriller, Where The Dead Men Go, which saw the return of journalist Gerry Conway, won the prestigious Ngaio Marsh Award for Best Crime Novel in 2014.
He has also written reviews and criticism for the London Review of Books, The Guardian, and others. He lives in Dunedin with his wife and three children.
AUTHOR LINKS:
Twitter: @LiamMcIlvanney