Firstly I wish to thank Sarah Hardy of Book on the Bright Side Publicity for inviting me on the Blog Tour for DEADLY SECRETS by Gordon Bickerstaff.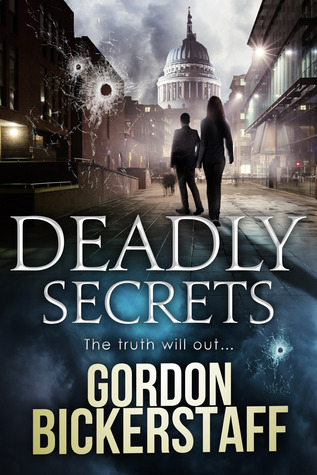 BOOK DESCRIPTION
Conspiracy. Serial Killers. Thriller.
The truth will out…
Gavin's life will be turned upside down. He joins a company to work on a product that will revolutionise the food industry. His initial gut instinct is to walk away until he discovers one of the company directors is the former love of his teenage life.
The financial implications are global and incredible. Powerful individuals and countries are prepared to kill as they compete to seize control of the company. Corruption at high levels, a deadly flaw in the product, and the stakes jump higher and higher.
Against overwhelming odds, Gavin must rescue his former love from the hands of an evil cult as they prepare her for a living nightmare.
BUY LINK:
Deadly Secrets: The truth will out… (A Lambeth Group Thriller)
HERE ARE MY THOUGHTS AND REVIEW
From the opening chapter it soon becomes clear that there is something real dodgy going on with a deadly outcome. I was well and truly reeled in for the day.
Gavin Shawlen isn't your typical suave under cover investigator, he is a little nerdy and not always socially savvy but he makes for cracking reading and a bloke that I would want at my shoulder. Gavin is a Biochemist that is working on a top-secret project that is worth billions and at the moment is sitting in a tiny spec of a company surrounded by a multimillion pound industry that is willing to go to any lengths to get their hands on it.
When negotiations break down for who should have the largest percentage and ultimate control of the new product the talks go from sitting round a table for a settlement to I am bigger than you tactics with deadly consequences. The anti is definitely upped as the story moves to deeper seedy goings on behind a fronted high-class business, where being in a position to buy an extension of life if possible for the right price.
This is a belting story with a great divide of this industry. One where the science and discovery are the prime objective, the actual break through being the bite of the apple to the flip side where money and profit is the only aim, no matter how many casualties are crushed in the process. The pace of the story escalates into a frenzy of intense chapters that just made me drool.
I really want to read more about Gavin and where the next book will take him. Brilliant!
HERE IS A LITTLE ABOUT THE AUTHOR
I was born and brought up in Glasgow, Scotland. I studied biochemistry, and I've worked in several Scottish Universities where I did research on enzymes and taught biochemistry. After thirty years of teaching and research I retired my academic pen and took of a fiction pen.
I write medical-themed thrillers. Deadly Secrets was published in 2013, and was followed by Everything To Lose in 2014, The Black Fox in 2015, Toxic Minds in 2016, Tabula Rasa in 2017 and Tears of Fire in 2018. I live in central Scotland with my wife and we enjoy reading, writing, and walking in the hills.
AUTHOR LINKS:
Bookbub:  https://www.bookbub.com/profile/gordon-bickerstaff
Facebook: https://www.facebook.com/profile.php?id=100012357701552
Twitter: @GFBickerstaff
Goodreads Author Page: https://www.goodreads.com/author/show/5776209.Gordon_Bickerstaff
Website: http://bit.ly/1g4gEoa