Firstly I wish to thank Anne Cater and Orenda Books for inviting me on the Blog Tour for BETON ROUGE by Simone Buchholz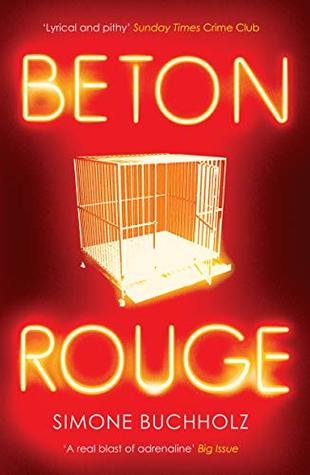 BOOK DESCRIPTION
On a warm September morning, an unconscious man is found in a cage at the entrance to the offices of one of the biggest German newspapers. Closer inspection shows he is a manager of the company, and that he's been tortured. Three days later, another manager appears in similar circumstances. Chastity Riley and her new colleague Ivo Stepanovic are tasked with uncovering the truth behind the attacks, an investigation that goes far beyond the revenge they first suspect, to the dubious past shared by both victims. Traveling to the south of Germany, they step into the elite world of boarding schools, where secrets are currency, and monsters are bred—monsters who will stop at nothing to protect themselves. A smart, dark, probing thriller, full of all the hard-boiled poetry and acerbic wit of the very best noir, Beton Rouge is both a classic whodunit and a scintillating expose of society, by one of the most exciting names in crime fiction.
BUY LINK:
Beton Rouge (Chastity Riley Book 2)
HERE ARE MY THOUGHT AND REVIEW
This is the second book in this series but the first that I have read. I really took to Public Prosecutor Chastity Riley who is what I would describe as a little coarse, dry humoured and very entertaining. She is like one of the lads, smokes, drinks and knows a few apt phrases for any situation that she finds herself in. As the story opens she comes across the scene of a woman who has been knocked from her cycle and has to go and take a look, not a pleasant sight.
The case she is asked to go to though is one where a man has been locked in a cage, stripped, tortured and left outside his place of work. The thing was it wasn't that which was most disturbing, I was pretty shocked to find out the reaction of the people who were going past. Boy this bloke was not liked. Before I had time to draw breath a second man turned up in a cage outside his place of work, again with not an ounce of sympathy from his work colleagues and employees.
This is a pretty quick read that focuses on both Chastity and the story line so I felt that I got a real good feel about who she is and how she ticks. I wasn't the only newbie to the story as she is partnered by Ivo Stepanovic which made them a super entertainment package. The pair just bounced off each other like they had known each other years. The chapters are incredibly short making the read snappy, with lots of information being given to me without it jumbled up with other irrelevant bits.
I really liked the direction that the story went, the down to earth investigators and the personal touch of who they are too.  An author I look forward to reading more from.
I received an e-copy of this book from the publisher which I have reviewed honestly.
HERE IS A LITTLE ABOUT THE AUTHOR
Simone Buchholz was born in Hanau in 1972. At university, she studied Philosophy and Literature, worked as a waitress and a columnist, and trained to be a journalist at the prestigious Henri-Nannen-School in Hamburg. In 2016, Simone Buchholz was awarded the Crime Cologne Award, and second place in the German Crime Fiction Prize, for Blue Night, which was number one on the KrimiZEIT Best of Crime List for months.
She lives in Sankt Pauli, in the heart of Hamburg, with her husband and son.