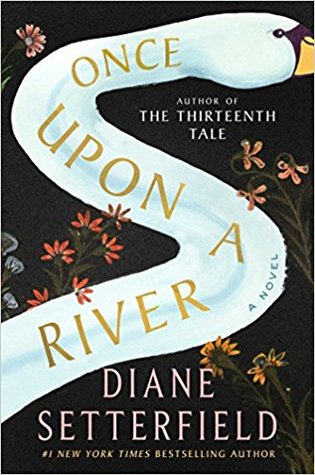 BOOK DESCRIPTION
A dark midwinter's night in an ancient inn on the Thames. The regulars are entertaining themselves by telling stories when the door bursts open on an injured stranger. In his arms is the drowned corpse of a little child.
Hours later the dead girl stirs, takes a breath and returns to life.
Is it a miracle?
Is it magic?
Or can it be explained by science?
Replete with folklore, suspense and romance, as well as with the urgent scientific curiosity of the Darwinian age, Once Upon a River is as richly atmospheric as Setterfield's bestseller The Thirteenth Tale.
BUY LINK:
HERE ARE MY THOUGHTS AND REVIEW
The scene is set as the ale flows like a river among the regulars in the Swan Inn which  stands on the bank of the Thames. It is the evening of the winter solstice so tales of magic, folklore and fantasy are well in swing when a stranger burst in carrying the body of a young girl. The stranger passes out before he can explain who he or the obvious dead girl is. It would be the night that new legends and tales would begin to take form but not conclude, not yet.
Rita is on hand as nurse to tend to the stranger's injuries but keeps being drawn to the body of the young girl, who has been put in a freezing outbuilding. She feels that the natural progress that a dead body always goes through just doesn't fit so when she sees the girl draw a breath all hell breaks loose. The stranger tells the story of how he had rescued her from the river but the poor girl can tell them nothing about who she is. More strangers are to come to the Swan seeking a missing child, each believing or wanting to believe she is theirs.
There is an abundance of memorable stand out characters in this incredible epic tale, some because of their heart-wrenching stories that got them to the Thames and the Swan others from rumours of evil beings risen from the dead. Stories of the living dead and of course the Ferryman that row up and down the Thames taking those whose time it is to die, on their final journey, or returning others to the land until it is their time. While the three generations of women that live at the Swan gladly reap the rewards of new trade.
I met Armstrong, who could have his own book about his life, his mysterious wife and their family and the Vaughans whose story broke my heart. Oh wow I wanted the impossible to be possible but I knew that this story had already used all its miracles up. Every character has something that connects them to the next either directly or indirectly through someone else. It really is a master piece. Tragic and sinister, beautiful and selfless.
Diane Setterfield is a weaver of words that felt timeless as I read and left me feeling that I wanted to walk the banks of the Thames over a hundred years ago to hear more stories at every Inn I came to.
I wish to thank NetGalley and the publisher for sending me an e-copy of this book which I have reviewed honestly.
HERE IS A LITTLE ABOUT THE AUTHOR
Diane Setterfield is a British author. Her bestselling novel, The Thirteenth Tale (2006) was published in 38 countries worldwide and has sold more than three million copies. It was number one in the New York Times hardback fiction list for three weeks and is enjoyed as much for being 'a love letter to reading' as for its mystery and style. Her second novel, Bellman & Black (2013 is a genre-defying tale of rooks and Victorian retail. January 2019 sees the publication of her new title, Once Upon a River, which has been called 'bewitching' and 'enchanting'.
Born in Englefield, Berkshire in 1964, Diane spent most of her childhood in the nearby village of Theale. After schooldays at Theale Green, Diane studied French Literature at the University of Bristol. Her PhD was on autobiographical structures in André Gide's early fiction. She taught English at the Institut Universitaire de Technologie and the Ecole nationale supérieure de Chimie, both in Mulhouse, France, and later lectured in French at the University of Central Lancashire in the UK. She left academia in the late 1990s to pursue writing.
The Thirteenth Tale was acquired by Heyday Films and adapted for television by the award-winning playwright and scriptwriter, Christopher Hampton. Starring Vanessa Redgrave and Olivia Colman, it was filmed in 2013 in North Yorkshire for BBC2. The TV rights to Once Upon a River have even sold to Kudos (Broadchurch, Spooks, Grantchester).
Diane Setterfield has been published in over forty countries.
Diane lives in Oxford, in the UK. When not writing she reads widely, and when not actually reading she is usually talking or thinking about reading. She is, she says, 'a reader first, a writer second.'
AUTHOR LINKS:
Website