Firstly I wish to thank Tracy Fenton for inviting me on the Blog Tour for LOUIS & LOUISE by Julie Cohen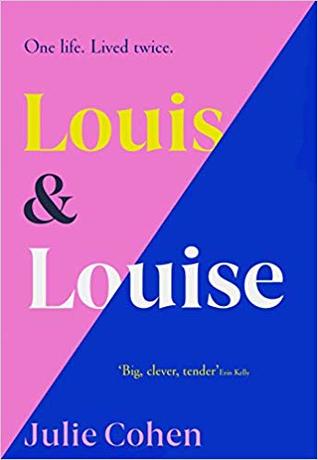 BOOK DESCRIPTION
If you could look at one life in two different ways, what would you see?
Louis and Louise are separated by a single moment in time, a strike of chance that decided their future. The day they were born is when their story began.
In one, Louis David Alder is born a male.
In the other, Louise Dawn Alder is born a female.
Louis and Louise are the same in many ways – they have the same best friends, the same parents, the same dream of being a writer and leaving their hometown in Maine as soon as they can. But because of their gender, everything looks different. Certain things will happen in their lives to shape them, hurt them, build them back up again. But what will bring them back home?
BUY LINK:
HERE ARE MY THOUGHTS AND REVIEW
What a brilliant idea for a book. The parallel stories of the same couple having a baby. On one time line a little girl Louise Alder is born and on the other a little boy Louis Alder is born. That is the only difference in each story everything else and everyone else is the same. The chapters alternate between the two characters covering the same time period then at times a chapter that is relevant to both of them.
The Alders are the paper mill owner which is the prime employment for the towns people, they are wealthy and not really wanting for anything though I have to say here that they never come across as thinking themselves above anyone else. In both instances they are best friends with twins Benny and Allie, who were born only a little while before them. The twins mum and Peggy, Lou's mum were best friends and remain that way.
The story is broke down into when 'Lou' is growing up to late teens and again when they are in their early 30's. On both time lines terrible events occurs that is life changing for everyone in the story.
I loved how both 'Lous' have similar traits in their thinking, talents that come through in both of them and likes and dislikes besides the physical similarities too. I suppose that is why they have the same taste in friends, although there is of course the outside influences too. I grew to love both these characters and honestly couldn't choose between them I just wanted them both to find peace and happiness. One of my favourite characters in both stories was Irving Alder, Lou's father. He had such a pure soul.
I do have to admit to shedding tears a number of times but love that a writer can affect me in this way. With each chapter I wanted more but excited to see what the other Lou was getting up to as well. There is such an openness in the writing that is just emotion and I felt it all. The hurt, the anger and the wanting. Beautiful writing that was simple with a massive impact.  Loved the end.
HERE IS A LITTLE ABOUT THE AUTHOR
Julie Cohen grew up in the western mountains of Maine. Her house was just up the hill from the library and she spent many hours walking back and forth, her nose in a book. She studied English Literature at Brown University and Cambridge University and is a popular speaker and teacher of creative writing, including classes for The Guardian and Literature Wales. Her books have been translated into fifteen languages and have sold nearly a million copies; DEAR THING was a Richard and Judy Book Club pick. Julie lives in Berkshire with her husband, son and a terrier of dubious origin.
AUTHOR LINKS:
Twitter: @julie_cohen
Web Site: http://www.julie-cohen.com/