BOOK DESCRIPTION
A serial killer is burning people alive in the Lake District's prehistoric stone circles. He leaves no clues and the police are helpless.
When his name is found carved into the charred remains of the third victim, disgraced detective Washington Poe is brought back from suspension and into an investigation he wants no part of.
Reluctantly partnered with the brilliant but socially awkward civilian analyst, Tilly Bradshaw, the mismatched pair uncover a trail that only he is meant to see. The elusive killer has a plan and for some reason Poe is part of it.
As the body count rises, Poe discovers he has far more invested in the case than he could have possibly imagined. And in a shocking finale that will shatter everything he's ever believed about himself, Poe will learn that there are things far worse than being burned alive…
BUY LINK:
The Puppet Show (Washington Poe Book 1)
HERE ARE MY THOUGHTS AND REVIEW
Super heroes come in all shapes and sizes but the pairing of disgraced detective Washington Poe and civilian analyst Tilly Bradshaw has to top them all. I could have read about these two without an additional storyline but just to top it off Mike Craven threw in an absolute belter!
Washington Poe is one of life's real salt of the earth good guys that doesn't suffer fools gladly, in fact they are left wondering what the hell just hit them! I was left tittering and giggling at his instant justice approach, that would make a yob think twice about their actions in the future. He was the light entertainment that softened the reality of a real badass, brutal serial killer.
The only way that I can describe Tilly is as a genius that has no common sense, no social skills and is as gullible and innocent as any child could possibly be. From being a young girl her sponge like mind simply soaked up knowledge, not giving her any time to develop friendships. He life was work and home with no diverting from that routine, well not until Poe came on the scene. Their relationship is pure gold!
What Mike Craven gave me was horror that made my hairs rigid, the killer's terror ring in my ears, my nostrils tingling and even when I closed my eyes not being able to clear the image of what must have seemed like an eternity of hell to the victims. The frustration of the investigation team being even more inflamed with the goading messages that were obviously for them.
The divided loyalties in the team and hierarchy rulings were being used to score points and hinder Poe, making him and his constant companion and side-kick Tilly a spectacular unstoppable duo. I was punching the air and whoop, whooping along the more they did.
This isn't a story of gore. This is a real mind bender, made from Russian doll-like story lines that reveal with each murder horrific time capsules of secrets as it works toward its final stunning conclusion.
HERE IS A LITTLE ABOUT THE AUTHOR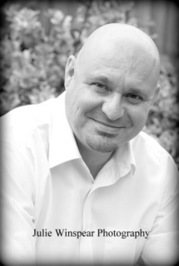 M. W. Craven was born in Carlisle but grew up in Newcastle, running away to join the army at the tender age of sixteen. He spent the next ten years travelling the world having fun, leaving in 1995 to complete a degree in social work with specialisms in criminology and substance misuse. Thirty-one years after leaving Cumbria, he returned to take up a probation officer position in Whitehaven, eventually working his way up to chief officer grade. Sixteen years later he took the plunge, accepted redundancy and became a full-time author. He now has entirely different motivations for trying to get inside the minds of criminals . . .
The Puppet Show, the first in a two-book deal he signed with the Little, Brown imprint, Constable in 2017, was released to critical acclaim in hardback in 2018. It has been sold in numerous foreign territories and the production company Studio Lambert, creators of the award-winning Three Girls, have optioned it for TV. The sequel, Black Summer, follows in June 2019.
M. W. Craven is married and lives in Carlisle with his wife, Joanne. When he isn't out with his springer spaniel, or talking nonsense in the pub, he can be found at punk gigs and writing festivals up and down the country.
AUTHOR LINKS:
Twitter: M.W. Craven