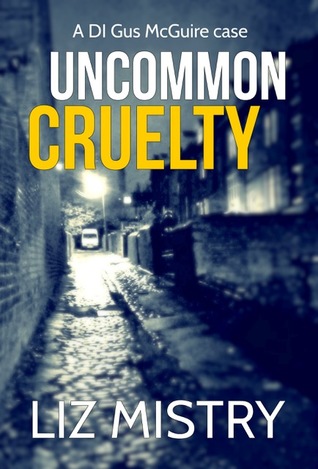 BOOK DESCRIPTION
DI Gus McGuire and his team are called in to investigate the disappearance of a teenage boy after his parents return from a weekend away, to find their home trashed and their son missing.
But that is just the beginning.
As the investigation unfolds, Gus must discover what links a violent bikers' gang, a Muslim youth group and a fundamentalist American based Christian church.
Alongside this, two cases from the past come back to haunt DI Gus McGuire and his DS, Alice Cooper.
Gus has a lot to juggle, but will he cope?
Uncommon Cruelty is the fourth in the DI Gus McGuire series set in Bradford West Yorkshire and is a gritty, Northern Noir read.
BUY LINK:
Uncommon Cruelty (a DI Gus McGuire case Book 4)
HERE ARE MY THOUGHTS AND REVIEW
This really is a top class series, although the stories can be read as stand alones. I do have to admit to reading the 5th book before this but the enjoyment was just as enriching. The opening scene is a distressing house fire, with the only survivor being a young boy before the story jumps forward to present day.
There is that moment, when you have children, of leaving them at home when you feel they are responsible enough to stay behind while you have a weekend away. Well for Simon's parents it turns into every parents worst nightmare. How can such much go wrong in one weekend? The team have their work cut out as they are pulled in so many directions with this case and dire complications and twists of a case that should have had its conclusion, one that was very personal to the team. Unfortunately when you think that things can't get any worse they just do! The more they discover about the teenage party the more vile crimes are uncovered, rape, murder, drugs and abductions. Even when some of the party goers emerge the picture doesn't become clear.
This is a terrific read with so many tangled leads, suspects and personal complications for the team that my mind wouldn't rest. The aftermath of destroyed families that would never be the same again just kept growing as the pieces were fitted together, concluding with a devastating end! Utter brilliance!
HERE IS A LITTLE ABOUT THE AUTHOR
I am a crime writer based in Bradford but originally from West Calder in Scotland. I studied at Stirling University and taught in Bradford inner-city Primary schools for many years. I write gritty crime fiction drawing on the richness of Bradford's diverse cultures and my writing is heavily influenced by Tartan Noir writers such as, Stuart MacBride, Ian Rankin and Val McDermid. I completed an MA in Creative Writing at the brilliant Leeds Trinity University. I currently have three novels published: Unquiet Souls (my debut novel) and Uncoiled Lies and Untainted Blood. I look forward to writing many more featuring my main character DI Gus (Angus) McGuire and his team. I am co-founder and lead blogger with The Crime Warp Blog
AUTHOR LINKS:
Website
Twitter