BOOK DESCRIPTION
The Lady in the Van meets The Unlikely Pilgrimage of Harold Fry in this uplifting, funny and moving debut novel about a 79-year-old hoarder who is convinced the world is against her.
79-year-old Gloria Frensham is a hoarder. She lives amongst piles of magazines, squashed cardboard boxes, surplus carpet rolls, heaps of towels and knick-knacks littering the stairs. She hasn't left her home for years, until a loud bang and a sudden smell of singeing sets in motion Gloria's unwilling exodus from her home…
That day is the start of a journey that will never return Gloria back to her beloved, hoarded possessions, nor to her son's house to live. For it is the start of her journey to discover life again – and she's going to make some good friends and defiant decisions along the way, with just one very small suitcase in tow…
Heart-warming and poignant in equal measure, this is a story about the loneliness of life, the struggles of growing old, the power of kindness, and the bravery it takes to leave our comfort zones.
BUY LINK:
HERE ARE MY THOUGHTS AND REVIEW
This is a charming and sad book all rolled into one. Gloria hadn't had the easiest starts in life, always short of this or that so when good fortune had come her way, for her and her husband, she didn't waste anything. In fact Gloria kept everything because one day she may need it. At 79 and now widowed, Gloria lived in her little house that was bulging at the seams, she was a hoarder until one day something went bang in the kitchen and she was forced to leave her home because it was so unsafe.
This put her only son in a bit of a conundrum. He didn't really want her to live with him and his family but he also didn't want to see his inheritance, his mother's house, being sold and used to pay for her to be looked after in residential care. Gloria had been careful all her life saving for a rainy day, well that time had come and the journey she took herself on would need one mighty umbrella. Ok she wasn't going to go globe-trotting but I will just say that Skegness, Eastbourne and London knew that she had been! You have got to love the emergency credit card!
This is such a beautifully written book that really reflects modern society, people living longer and busy family units that pay courtesy calls on aged parents, just to be able to say they have visited. Gloria is quite a character that over the years hadn't realised just what a mess she had got into until she saw it from the other side. I loved her visit to her old friend, so very touching. The story took me through so many emotions as I travelled with Gloria revisiting old friends and making new ones and never forgetting the ones that had always been there for her.
This is a lovely uplifting story, with a 'you are never to old' theme. One to bring a tear and make you chuckle too. I wish to thank NetGalley for an e-copy of this book which I have reviewed honestly
HERE IS A LITTLE ABOUT THE AUTHOR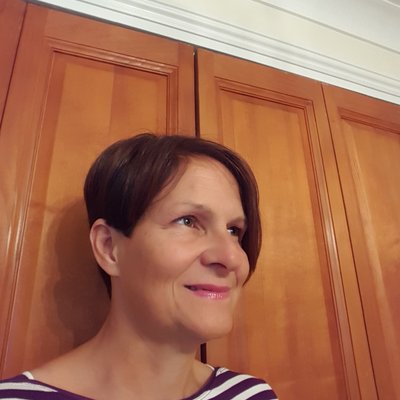 Jane Gilley was born in Nottingham and now lives on the beautiful island of Jersey, with her husband, a rabbit and a Senegal parrot.
Following a career in Interior Design and after writing 6 children's books, Jane now writes adult books full time.
AUTHOR LINKS:
Twitter: @JaneGilley2