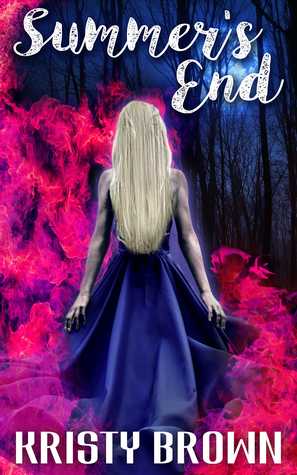 BOOK DESCRIPTION
Summer's End
She wakes up in hospital, badly burned with no memory.
He's been trained to kill her before she burns the world to ashes.
When they finally meet, will he be able to take her life now that he's started to
feel for her?
His fate is already written.
The prophecy is already set…
Love between them is forbidden.
BUY LINK:
HERE ARE MY THOUGHTS AND REVIEW
This is a book for young adults to not only fall in love with this story but with reading as well. It is everything in it to keep them eager to see what is going to happen next. When Summer wakens up in a hospital, after having had a number of operations to repair her badly burnt body and face, she has no memory of who she is or what has happened. With one operation still to go she decides to keep the last remaining scar as a start point to finding out anything about herself.
This is a beautifully crafted story, with intrigue and mystery, a mission and forbidden love. Within the first few pages of reading about Summer I just wanted to protect her from everyone. She has a couple of friends, that fill her in on her past but she feels that there is still so much more missing. When she sees Dooney, all the girls seem to drool over him but he has no interest in them, he only has eyes for Summer. The thing is his eyes are at times cold and frightening but still make her heart skip a beat. She begins to have  very strange flash backs, Summer needs to find out how their paths have crossed before.
I really loved this story that when I thought I had sussed it out it shot off down a new avenue. It made it really difficult to put down to do anything else. The mystery definitely got me in the first few chapters, then the need to know more, especially about the very dishy Dooney. I really do like a book that can throw me off track with characters that I thought I knew. I was in for quite a few shocks, especially with one of the characters. Kristy Brown has smashed this genre. What a super story line with a tremendous build to an climatic ending!
I wish to thank the author for an e-copy of this book which I have reviewed honestly
HERE IS A LITTLE ABOUT THE AUTHOR
Hi I'm Kristy and I live in the U.K. I have always written short stories and poetry. I went to university to study acting which I loved, but my real passion has always been writing. So now I write the kind of stories I would have wanted to read when I was a teen. "Kiera's Quest-Awakenings" is my first ebook. There are four in the series, 'Sacrifices,' 'Perceptions,' and 'Choices.'( Muse It Up Publishing.)
My YA contemporary romance book, "Just Sam," Is available on Amazon in print & on Kindle.
"Summer's End," a YA Paranormal romance series, will be out July 2018 with 'Muse It Up Publishing.' This title will also be available in print and e-book. My dream is to have them in print someday! I love reading YA angels,vamps etc. I love my kids and hopefully one day they will enjoy my crazy tales!xx
AUTHOR LINKS:
Website
Twitter