Firstly I wish to thank Michael Wood for inviting me onto his Blog Tour for THE HANGMAN'S HOLD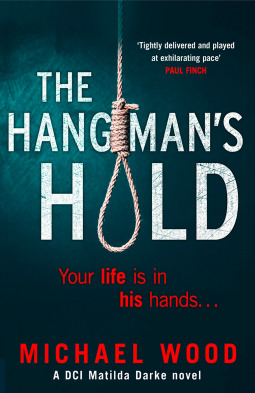 BOOK DESCRIPTION
Your life is in his hands.
In the gripping new serial killer thriller from Michael Wood, Matilda Darke faces a vicious killer pursuing his own brand of lethal justice. Perfect for fans of Angela Marsons and Helen Fields.
There's a killer in your house.
The Hangman waits in the darkness.
He knows your darkest secrets.
He'll make you pay for all the crimes you have tried desperately to forget.
And he is closer than you think.
DCI Matilda Darke is running out of time. Fear is spreading throughout the city. As the body count rises, Matilda is targeted and her most trusted colleagues fall under suspicion. But can she keep those closest to her from harm? Or is it already too late?
BUY LINK:
The Hangman's Hold: (DCI Matilda Darke Series, Book 4
HERE ARE MY THOUGHTS AND REVIEW
When a serial killer is targeting ex-criminals vigilante style, the general public and some members of the police force aren't in a hurry to catch him. I'm talking about the crimes a lot of people say they should be hung for, well the killer feels the same.
I do love a book that lets me into the mind of a killer and whoa this is a man that enjoys his justice. His research is to be admired, his skill at killing perfection and he leaves no clues behind. But it isn't just his victims that suffer. These people have paid their dues, as the courts stated and now they have moved on, made a new life and have families themselves. What is left behind is raw and brutal stories in the news papers exposing their seedy pasts again and as they are dead it moves to the next generation to face the hate.
DCI Matilda Darke heads the investigation team to catch this killer, who is playing a game of phoning her and a young local reporter baiting them both. She fears that it may be someone she knows but doesn't know who. DCI Darke isn't feeling comfortable with the changes in the department as it isn't as close knit as before. There is still the core team with new police officers on the fringe that she feels she knows little about.
The case becomes very personal for Matilda as she has too dig round her own past encounters something that will have life changing consequences for her. There are two sides to her. The confident DCI but there is also the woman who crumbles a little more with her fair share of personal knocks. A woman who has trouble letting go of the past and moving on.
This is an intense story with an abundance of characters that are connected to each murder, so very easy to follow. An absolute cracking end and set up for number 5. Superb!
HERE IS A LITTLE ABOUT THE AUTHOR
Michael Wood is a proofreader and former journalist from Sheffield, South Yorkshire. He is the author of the DCI Matilda Darke series set in Sheffield.
For Reasons Unknown was Michael Wood's debut novel, which was published in 2015. Harper Collins published the second instalment, Outside Looking In 2016 and A Room Full Of Killers in 2017
AUTHOR LINKS:
Twitter: @MichaelHWood
OTHER BOOKS AND BUY LINKS IN THE DCI MATILDA DARKE SERIES
For Reasons Unknown: (DCI Matilda Darke, Book 1)
Outside Looking In: (DCI Matilda Darke, Book 2)
A Room Full of Killers: (DCI Matilda Darke Series, Book 3)
The Fallen: A DCI Matilda Darke short story