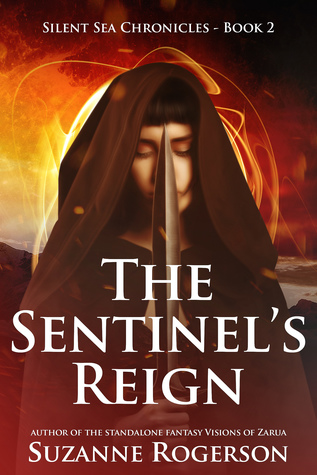 BOOK DESCRIPTION
The new Sentinel's reign is doomed to failure unless Tei can prevent the Kalayan people from plunging into war.
With the new Sentinel initiated and the magic restored on Kalaya, life is flourishing for Tei and the exiles. But Rathnor's plans for war soon escalate and thwart any chance of peace.
Brogan's position on the Assembly is uncertain as rumours circulate that he is an exile spy.
After an attempt on his life, Farrell is more determined than ever to build a home for his people on Stone Haven. But the council have their sights set on Kalaya and Farrell struggles to steer them from war.
As trouble brews within and outside forces gather against them, can the exiles keep their hold on the magic, or will this spell the end of Kalaya and its people?
The Sentinel's Reign is a heroic fantasy. If you like character-driven adventures then you will love The Sentinel's Reign.
This is the second book in the Silent Sea Chronicles trilogy and follows on from The Lost Sentinel.
BUY LINK:
The Sentinel's Reign: Silent Sea Chronicles – Book 2
HERE ARE MY THOUGHTS AND REVIEW
It is a while since I read book 1 in this series but it all came back to mind pretty quickly as each character re-emerged in the story. You really do need to read book 1 before this one, not only to get a feel of the characters but it really does continue with story lines that tie up in this one too.
Life is as good as it gets when the story opens but that cloud of doom and foreboding is never far away. Kalaya is an Island where the exiles and Tei live under a cloak of magic provided by the new Sentinel. Tei and Calissa are sort of bound by their destinies but it really hasn't been an easy journey, both are very strong characters. Tei is one of my favourites, a strong-willed and determined woman who has found love, though I am a little unsure who wears the pants here!
It is difficult to say too much in a series so as not spoil the book that has gone before. The story, on a whole. is complex and the characters are in plenty supply but Suzanne Rogerson very nicely links people and places together that make it easy to know the good from the bad. It isn't always brute force that solves problems in this story although there is a fair bit of fighting when they clash.
I grew to hate Rathnor on every page turned as lives were destroyed and corrupted and good people lost their families. Oh boy there are some shockers, so take some deep breaths on each page that he is about. Now I really began to love Hafender head of the exiles, who brought a smile to my face more than once, no-one could miss this huge man in height or likeability, although for those that don't know him he is one scary fellow.
A super paced story, plenty going off and an ending that makes me hungry for the last instalment. This is a cracking epic saga.
HERE IS A LITTLE ABOUT THE AUTHOR
Suzanne lives in Middlesex with her hugely encouraging husband and two children.
She wrote her first novel at the age of twelve. She discovered the fantasy genre in her late teens and has never looked back. Giving up work to raise a family gave her the impetus to take her attempts at novel writing beyond the first draft, and she is lucky enough to have a husband who supports her dream – even if he does occasionally hint that she might think about getting a proper job one day.
Suzanne loves gardening and has a Hebe (shrub) fetish. She enjoys cooking with ingredients from the garden, and regularly feeds unsuspecting guests vegetable-based cakes.
She collects books, loves going for walks and picnics with the children and sharing with them her love of nature and photography.
Suzanne is interested in history and enjoys wandering around castles. But most of all she likes to escape with a great film, or soak in a hot bubble bath with an ice cream and a book.
 BUY LINK TO BOOK 1 IN THE SERIES:
The Lost Sentinel: Silent Sea Chronicles – Book 1
AUTHOR LINKS:
Website
Twitter