Firstly I wish to thank Sophie Ransom of Midaspr for inviting me to read and review A STEEP PRICE by Robert Dugoni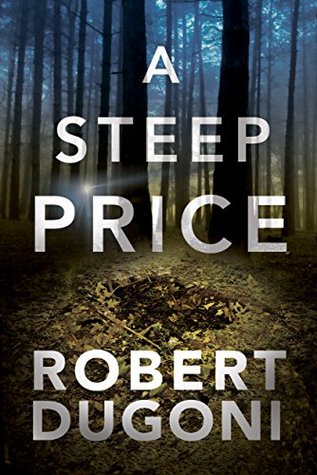 BOOK DESCRIPTION
New York Times bestselling author Robert Dugoni's thrilling series continues as Seattle homicide detective Tracy Crosswhite is plunged into a case of family secrets and murder…
"Another outstanding novel from one of the best crime writers in the business." —Associated Press
Called in to consult after a young woman disappears, Tracy Crosswhite has the uneasy feeling that this is no ordinary missing-persons case. When the body turns up in an abandoned well, Tracy's suspicions are confirmed. Estranged from her family, the victim had balked at an arranged marriage and had planned to attend graduate school. But someone cut her dreams short.
Solving the mystery behind the murder isn't Tracy's only challenge. The detective is keeping a secret of her own: she's pregnant. And now her biggest fear seems to be coming true when a new detective arrives to replace her. Meanwhile, Tracy's colleague Vic Fazzio is about to take a fall after his investigation into the murder of a local community activist turns violent and leaves an invaluable witness dead.
Two careers are on the line. And when more deadly secrets emerge, jobs might not be the only things at risk.
Buy Link:
A Steep Price (The Tracy Crosswhite Series Book 6)
HERE ARE MY THOUGHTS AND REVIEW
I have to admit that this is my first Robert Dugoni novel and although it is much better to read a series from the beginning this is a cracking book in its own right. From what I gathered homicide detectives Tracy Crosswhite and Vic Fazzio come across as a couple of real good guys on the side of the law so I am now biting at the reins to see what they would be like together on a case.
Both detectives have massive life changing personal stuff going on, Tracy is pregnant and trying to keep it hush, hush, at the moment so she can carry on working and Vic's wife is facing another round of confirmed cancer. Once they are on their respective cases they get their heads down and give one hundred percent. Two very different stories.
The disappearance of Kavita Mukherjee, a bright and confident student determined to leave tradition behind her to become a doctor along with her best friend, didn't at first raise any real concerns but Tracy had that gut feeling that just wouldn't let her dismiss it. This is a gripping story line, told at times by Kavita in the past and in present day through the investigation. This held more than a couple of surprises and shocks.
Fazzio finds himself involved in the murder of an activist but when the trail leads to an apartment things go down hill rather quickly with what really happened and what people report as happening very different. Now I really liked this guy, who did things in his own way and just kept after the truth. But had he pushed too far this time with the wrong people?
From the first page I was won over by this author. Both story lines were far more than I first thought they were going to be and I became pretty involved in them both. I really liked the balance of work and home life as it gave the characters more realism. Excellent reading
HERE IS A LITTLE ABOUT THE AUTHOR
Robert Dugoni is the New York Times, #1 Amazon, and #1 Wall Street Journal Bestselling Author of the Tracy Crosswhite series: My Sister's Grave, Her Last Breath, In the Clearing, The Trapped Girl and Close to Home, as well as the short prequels The Academy and Third Watch. The police procedural featuring Seattle Homicide Detective Tracy Crosswhite has kept Dugoni in the Amazon top 10 for more than three years and sold more than 4 million copies. He is also the author of the critically acclaimed The Extraordinary Life of Sam Hell, released April 2018. Dugoni's first series featured attorney David Sloane and CIA agent Charles Jenkins.
He is the winner of the Nancy Pearl Award for fiction, a two-time nominee for the Harper Lee Award for Legal Fiction, A two-time nominee for the Mystery Writer's of America Edgar Award and a two-time nominee for the International Thriller of the year. His non-fiction expose, The Cyanide Canary, was a 2004 Best Book of the Year. He is published in more than 30 countries and two dozen languages.
AUTHOR LINKS
Website
Twitter