Firstly I wish to thank Sarah Hardy of Bloodhound Books for inviting me on the Blog Tour for Uncommon Cruelty by Liz Mistry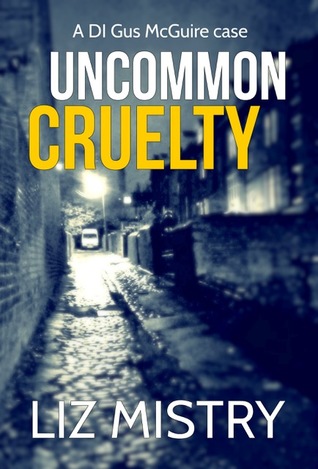 BOOK DESCRIPTION
DI Gus McGuire and his team are called in to investigate the disappearance of a teenage boy after his parents return from a weekend away, to find their home trashed and their son missing.
But that is just the beginning.
As the investigation unfolds, Gus must discover what links a violent bikers' gang, a Muslim youth group and a fundamentalist American based Christian church.
Alongside this, two cases from the past come back to haunt DI Gus McGuire and his DS, Alice Cooper.
Gus has a lot to juggle, but will he cope?
Uncommon Cruelty is the fourth in the DI Gus McGuire series set in Bradford West Yorkshire and is a gritty, Northern Noir read.
Buy Link:
Uncommon Cruelty (a DI Gus McGuire case 4
I WISH TO THANK LIZ FOR THIS WONDERFUL GUEST POST THAT GIVES A VIVID AND FRANK VIEW OF WHAT THE STREETS OF BRADFORD ARE REALLY LIKE
Let Me take You Through The Streets of Gus McGuire's Bradford
I've lived in Bradford for over thirty years. It is my adoptive home and I make no bones about the fact that I love my city. That said, every city has its dark underbelly and, I have to say, I love exploring that and bringing to life issues that face the city. Bradford is a poor city and with poverty comes vulnerability and exploitation and pain. It is a diverse city and that is sometimes accompanied by distrust, wariness and fear. However, it is also a Northern city, and it's a Yorkshire city and, with that, comes heart. To me, Bradford is Warm and Rich and Fearless. It is resilient. It is a panorama of cultural spirit and no matter what gets thrown at Bradfordians, they rise to the occasion with spirit and aplomb. I hope that these sentiments shine through when I'm writing Gus' character.
Whilst I explore the darker sides of Bradford in my books (I am a crime fiction writer, after all), I hope I do more than that. I hope that I highlight societal issues in a sensitive way, whilst celebrating the things in Bradford worth celebrating.
So, allow me to take you by the hand and lead you through the streets of Gus McGuire's Bradford.
Heaton Woods
Five minutes' walk from inner city Manningham, Heaton Woods are a delight to explore. Over forty acres of both ancient and new woodland are looked after by the Heaton Woodlands Trust charity. With paths leading to Shipley and Frizinghall you could never get tired of ambling through these woods. Gus and Bingo (his wee dog) spend an inordinate amount of time walking through them, and sometimes, in Gus' case jogging through them. In fact, Gus' house on Marriners Drive at the bottom of Emm Lane, backs onto them. You'll often find Gus sitting at Sean's pond, meditating and thinking things through or sitting by the banks of the stream. It calms him and helps him connect with the world in a beautiful environment, whilst escaping from the pressures of his job.
Lister Park and Cartwright Hall Art Gallery
Gus has grown up in this area of Bradford and he is delighted with the way Lister Park has developed over the years. All year round, the park is well-utilised, but in spring and summer it explodes with activity and vibrancy. It caters to everyone and Gus loves seeing Bradford's diverse communities using all of the parks facilities. It is a melting pot of migrants from Ireland, Scotland, the Ukraine, Mirpur Pakistan, India, West indies and Africa, with newer arrivals from Eastern Europe. It's tennis, badminton and basketball facilities are well used and it makes Gus proud when he sees mixed groups of older people playing bowls on the parks greens in the summer. The boating pond is home to geese, ducks and the most beautiful swans. The children's play area is extensive and Gus takes Mo's children there when he can, finishing off with an ice cream in the parks café.
The Mughal gardens with their ornate arches and beautiful waterways with fountains provides a calming place to sit and ponder life, as do the many seats around the garden area in front of cartwright Hall. Gus loves the art that has escaped the splendid Cartwright Hall Art Gallery and
is dotted around the park. Cartwright Hall hosts an amazing array of diverse artworks from around the globe and is home to the well visited Hockney gallery. Further up there is a bandstand and a delightful sensory garden. Gus is a familiar figure among the power walkers and joggers with his dreadlocks and piercing blue eyes as he, regardless of the weather, jogs through the park on his way to The Fort.
City Park
Built in the centre of Bradford surrounded by the magnificent Town Hall building, City Library, the Alhambra Theatre and the National Media museum, City park is a hive of activity. Its mirror pool with fountains draws the crowds throughout the year. It is the largest pool of its kind in the UK. No wonder, City Park features a lot in Untainted Blood. The thing Gus loves most about this area though has to be Sunbridge Wells; the underground tunnels that meander misleadingly uphill from City Park to the top of the city, play host to many bars and eateries as well as shops and stalls. Gus loves nothing more than to eat in The Tapas Bar before vacating to end the evening with a whisky in Alibi bar. In the city centre you'll be spoiled for choice … no wonder Bradford has been crowned UK Curry Capital six times. Bradford is the first city to be awarded UNESCO City of Film
Shipley Glen
Shipley Glen, is another of Gus' haunts with Bingo. With a tramway from Saltaire/Baildon up to the top of the glen where the views are to die for. The huge flat slabs, sheer drops and bracing breeze make it one of Gus' favourite jogging spots. Of course, a body was also discovered there (not telling you which book though). How many cities can boast such a lovely site within a stone's throw of the city centre. It is a geological marvel, with commanding panoramic views overlooking Saltaire World Heritage Site which in itself is a complex of historic mill buildings and cultural attractions, founded by Bradford textile philanthropist, Sir Titus Salt in 1853.
Bingley
It was in Myrtle park in Bingley that we see Gus' heart get broken. Bingley, on the outskirts of Bradford boasts a whole plethora of scenic views. Near St Ives' country estate it has quality eateries, canal and riverside walks and picturesque churches. Gus often drinks in the Potting Shed and eats in The White Horse.
These are just a few of the Bradford places Gus likes to spend time. Unfortunately, as you and I know, he doesn't have a lot of down time. Especially not now, for in Uncommon Cruelty he has a disastrous house party, two dead people and a missing teen to contend with.
HERE IS A LITTLE ABOUT THE AUTHOR
Liz writes crime fiction books set in Bradford, West Yorkshire. The DI Gus McGuire series is gritty Northern noir with a bit of Scottish thrown in.  She is currently researching for a Ph. D in creative writing at Leeds Trinity University. As part of her Ph.D she is researching how the teen killer's voice is portrayed in the adult crime fiction novel with specific reference to the influence of  teen social media usage, with a view to writing a crime fiction novel around these issues.
Liz also teaches creative writing, specialising in crime fiction and is a regular panellist at literary festivals throughout the UK.  She enjoys reading her work at Open Mic and Noir at the Bar events. She was chosen to be one of the spotlighted authors at the Bloody Scotland crime writing festival in 2016.  She is the lead blogger for the well renowned crime fiction blog The Crime warp which reviews contemporary, mainly UK based, crime fiction, comments on current issues around the genre and creative writing in general and interviews authors on a regular basis.
She is available to comment on current issues around creative writing in general and crime fiction in particular and to speak at local and national festivals and conferences
AUTHOR LINKS:
Website: https://lizmistrycrimewriter.wordpress.com/
Blog: https://thecrimewarp.blogspot.co.uk/
Email: LizMistryAuthor@yahoo.com
Twitter: @LizCrimeWarp
Facebook Page: https://www.facebook.com/pg/LizMistrybooks/about/
OTHER BOOKS IN THIS SERIES
Unquiet Souls (a DI Gus McGuire case 1 
Uncoiled Lies (a DI Gus McGuire case 2
Untainted Blood ( DI Gus McGuire case 3