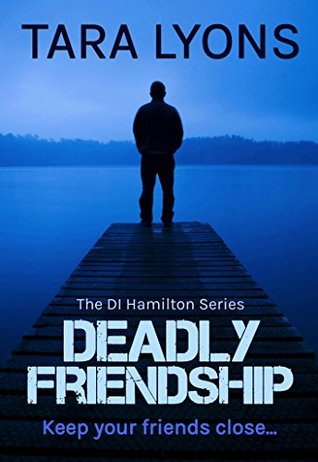 BOOK DESCRIPTION
A fast-paced and gripping crime thriller
Who can you really trust?
Detective Inspector Denis Hamilton is dragged into a gruesome murder investigation, while on annual leave in Lake Windermere. A handwritten note, with a woman's name, is found inside the corpse.
When a direct link to London is identified, Hamilton must race against the clock to make the connection before the body count rises.
Meanwhile, four friends with strained relationships, are reunited. What past event do they want to keep buried and is there something linking them to the murders?
Then, when a person from Hamilton's past returns, he must ask himself: how well do we really know our friends?
London's murder investigations team returns in this third novel from the bestselling author of In the Shadows and No Safe Home.
HERE ARE MY THOUGHTS AND REVIEW
Well what should have been a welcome family break for DI Denis Hamilton, his wife and mother at Lake Windermere, turns into a 'bus man's' holiday for him when a dead body makes a sudden appearance.  He is soon taking notes, names of people there and securing the area as best he can. Someone in the crowd is non too happy though, they were not expecting a London DI to be one of the first on the scene with all his knowledge and skills, instead of the local police that weren't use to dealing with murder scenes.
When the name of a woman is found on a slip of paper inside the victims mouth, her name is soon tracked down to be a missing person from two years ago. She had disappeared from this area with no trace of whether she was alive or dead. The case is soon linked back to London. DI Hamilton wastes no time in asking to take the case over and  gathers his team, well DS Lewis Clarke and two newbies, to find out what link there could be between both cases.
Oh boy I so felt for his wife and mother as there are some jobs that you are never really off duty from. Just love DI Hamilton, he is just so cool, totally organised and focused but a man who has known tragedy in his own life. While others concentrate on the recent death of victim, DI Hamilton sets too, to find out more about the 'missing woman' and her connection to the dead man.
Tara Lyons has brought yet another cracking story to the table. There is nothing that I like better than being in the dark mind of the murderer. The control they show to the world while inside they are raging and festering. I had not got a clue who the killer was in the story until the end. There was so much going on, so many twists in this group that threw me.  The cat is well and truly set amongst the pigeons, if they all have to die then so be it! The clock is ticking for another victim and another.
At 216 pages it makes a cracking well compacted pacey story from the start to finish. This could be read as a stand alone but it is number three in the DI Hamilton series. The core characters are becoming more solid with each of the books, just love finding out more about them all as time goes on.
HERE IS A LITTLE ABOUT THE AUTHOR
Tara is a crime/psychological thriller author from London, UK. Turning 30 in 2015 propelled her to fulfil her lifelong dream of becoming a writer. In the Shadows is Tara's debut solo novel published in March 2016. She co-wrote The Caller and Web of Deceit: A DI Sally Parker novella with New York Times bestselling author, M.A Comley.
In August 2016 Tara signed a two-book contract with Bloodhound Books. The third book in the DI Hamilton series, Deadly Friendship, was published in July 2017.
When she's not writing, Tara can be found at a local Wacky Warehouse stuck in the ball-pit with her young, energetic son.
AUTHOR INFO AND LINKS:
Sign up to Tara's monthly newsletter for exclusive news, previews and giveaways: http://eepurl.com/bN2KoH
Find out more about the author and follow her writing journey:
http://www.facebook.com/taralyonsauthor
http://www.twitter.com/taralyonsauthor
http://www.instagram.com/taralyonsauthor
http://www.taralyonsauthor.blogspot.co.uk
http://www.authorselectric.blogspot.co.uk