BOOK DESCRIPTION
A stand-alone novella from the author of Manipulated Lives
A perfect friend … or a perfect impostor?
Alexa is an energetic and charismatic professional and the new member of a Parisian PR company where she quickly befriends her colleagues Rosie and Jack. She brings a much-needed breath of fresh air into the office and ambitiously throws herself into her new job and friendships.
But is Alexa all she claims to be?
As her life intertwines with Rosie and Jack's, they must all decide what separates truth from fiction. Will the stories that unfold unite or divide them? Can first impressions ever be trusted?
In this original novella, H.A. Leuschel evokes the powerful hold of appearances and what a person is prepared to do to keep up the facade. If you like thought-provoking and compelling reads with intriguing characters, My Sweet Friend is for you.
HERE ARE MY THOUGHTS AND REVIEW
I am not normally a fan of novellas but feel that of the few that I have read this year I have chosen wisely. I had already read and loved Manipulated lives, which is a collection of short stories by this author, so I had no hesitation of choosing this book.  My Sweet Friend has a similar feel with it to Manipulated lives as it tells a story of the influences that we have on each others lives.
The story follows the new friendship between Alexa and Rosie in the Parisian PR Company where they first meet. Alexa is outgoing and confident, with the gift of the gab, where as Rosie just simply gets her head down and gets on with what is to do. It isn't long before the tiniest of fractures in the friendship begin to appear and it is affecting both the women's careers.
A personal matter in Rosie's life is taking a lot of her time and money too, which she is finding difficult to cope with so she is grateful for a friend that can lend a hand and a little more. It really is fascinating seeing how manipulating a situation can become without the other person really knowing, or at least choosing to give the benefit of the doubt about a friend.
When a third wheel in this unstable cog becomes involved in the form of Jack, another employee of the firm everything shifts up another gear and a clearer picture forms. Loved being a part of the workings of this intriguing mind, it was quite an eye opener of how they saw the world.
Helene Leuschel always gives me something to think about after I finish reading her books, I tend to look at people a little differently and wonder if I really do know them and how well they really know the true me.
HERE IS A LITTLE ABOUT THE AUTHOR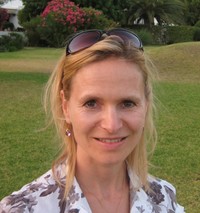 Helene grew up in Belgium where she gained a Licentiate in Journalism & Communication, which led to a career in radio and television in Brussels, London and Edinburgh.
She now lives with her husband and two children in Portugal and recently acquired a Master of Philosophy with the OU, deepening her passion for the study of the mind. When she is not writing, Helene works as a freelance journalist and teaches Yoga.
LINKS:
Website
Twitter