This is quite a special day for me and so I have decided, after a lot of thought, to make this super book my 300th read and review book of this year.
183 Times a Year by Eva Jordan.
BOOK DESCRIPTION
Mothers and daughters alike will never look at each other in quite the same way after reading this book—a brilliantly funny observation of contemporary family life.
Lizzie—exasperated Mother of Cassie, Connor and Stepdaughter Maisy—is the frustrated voice of reason to her daughters' teenage angst. She gets by with good friends, cheap wine and talking to herself—out loud.
16-year-old Cassie—the Facebook-Tweeting, Selfie-Taking, Music and Mobile Phone obsessed teen—hates everything about her life. She longs for the perfect world of Chelsea Divine and her 'undivorced' parents—and Joe, of course.
However, the discovery of a terrible betrayal and a brutal attack throws the whole household into disarray. Lizzie and Cassie are forced to reassess the important things in life as they embark upon separate journeys of self-discovery—accepting some less than flattering home truths along the way.
Although tragic at times this is a delightfully funny exploration of domestic love, hate, strength and ultimately friendship. A poignant, heartfelt look at that complex and diverse relationship between a Mother and daughter set amongst the thorny realities of today's divided and extended families
HERE ARE MY THOUGHTS AND REVIEW
This was a real fly on the wall sort of read as it looks at every day life of a 'blended family' as they go day by day in their ordinary lives. I feel so darn lucky as I can't remember having stand-off situations with my parents and didn't have any with my two daughters or step daughters either.
What I was shocked with as a parent was finding out how many times I survived on a wing and a prayer. I always thought my mum knew all the answers, believe me as a mum myself for a number of years, I know I didn't I just blagged it because most of the time it was all guess-work. I am almost 61 it is still guess-work.
I loved Lizzie and Cassie and the frustrations of them both, Lizzie really wanting everyone just to help a little more and Cassie seeing the chores as 'things that mum enjoys doing', that is just classic, love it. I giggled and chuckled, especially when Cassie constantly used wrong words to describe things, even at the most inopportune moments. The grass was so much greener for Cassie as she so wanted to be in with popular groups in school and leave childhood behind. She has far more to her than she is given credit for.
The story does of course cover the whole family as Lizzie also has a son Connor and stepdaughter Maisy. It is the whole package of mix family problems. Simon is the rock in the house and clearly loves Lizzie and all the kids. There are Grandparents and a reluctant maternal dad in the picture too. There are betrayals of all kinds from every angle for a few members of the family.
I thought the ordinariness of the whole story to be the magic that made it so special, an instant connection to the family dynamics. Most families face tragedy of all sorts of degree at some time and this family was no different. I think that it is here that author Eva Jordan's novel went from an entertaining read to brilliant. The changes in the family were captured to perfection. It was a life changing event that hit all of them.
I felt connected to each person in this story, a wonderful debut novel from this very talented author.
HERE IS A LITTLE ABOUT THE AUTHOR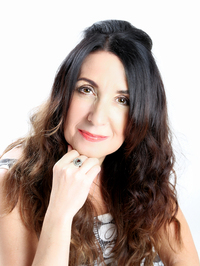 Eva Jordan, born in Kent but living most of her life in a small Cambridgeshire town, describes herself as a lover of words, books, travel and chocolate. She is also partial to the odd glass or two of wine.
Her career has been varied including working within the library service and at a women's refuge. She has had several short stories published and currently writes a monthly column for a local magazine. Eva also works on a voluntary basis for a charity based organisation teaching adults to read. However, storytelling through the art of writing is her passion and as a busy mum and step mum to four children, Eva says she is never short of inspiration!
As well as writing, Eva loves music and film and of course she loves to read. She enjoys stories that force the reader to observe the daily interactions of people with one another set against the social complexities of everyday life, be that through crime, love or comedy.
It is the women in Eva's life, including her mother, daughters and good friends that have inspired her to write her debut novel, 183 TIMES A YEAR, and her second novel, ALL THE COLOURS IN BETWEEN. Both a modern day exploration of domestic love, hate, strength and friendship, set amongst the thorny realities of today's divided and extended families.
OTHER BOOKS
Eva Jordan's much-anticipated follow up to the bestselling 183 Times a Year It's not a life, it's an adventure!