Firstly I wish to thank Imogen Sebba of Bonnier Zaffre for inviting me to read Genuine Fraud by e. lockhart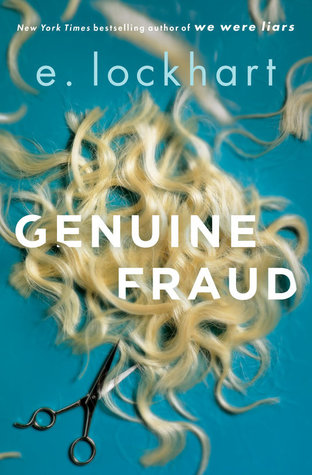 BOOK DESCRIPTION
The story of a young woman whose diabolical smarts are her ticket into a charmed life. But how many times can someone reinvent themselves? You be the judge.
Imogen is a runaway heiress, an orphan, a cook, and a cheat.
Jule is a fighter, a social chameleon, and an athlete.
An intense friendship. A disappearance. A murder, or maybe two.
A bad romance, or maybe three.
Blunt objects, disguises, blood, and chocolate. The American dream, superheroes, spies, and villains.
A girl who refuses to give people what they want from her.
A girl who refuses to be the person she once was.
HERE ARE MY THOUGHTS AND REVIEW
Well I have to start by saying that I haven't read anything like this before. Loved the story but whoa this is such an unusual way to tell it. Each chapter was a fascination to me as each one took me back another step in time. At times it was quite sad as I already knew what lay head in their future for some of the characters. I also already knew the end, or did I?
The way in which it was told is really priceless. Most stories of course work up to a climax from before the event but well this brilliant written character is a master of cover up. I didn't like her, she got under my skin and I feared her because she is a chameleon that can become whoever and whatever she needs to be for who she is with. The further I read into the story the closer I came to the beginning and the end.
It was a strange book in the way of I didn't want to be close to the main character and yet other characters in the book weren't round long enough for me to really get to know them. They were portrayed more as a pest that needed to be swotted or avoided at all costs. Now this may sound like a strange book and to be honest it was but hell it was tense, it was compelling and I loved everything about it.
This is the first book that I have read by this author but feel that this style of writing is a one-off kind of book. The impact wouldn't be as great to repeat this style again, it is sort of a novelty novel. Just brilliant!
I wish to thank Imogen Sebba of Bonnier Zaffre for inviting me to read this book which I have reviewed honestly.
HERE IS A LITTLE ABOUT THE AUTHOR
I am the author of We Were Liars, Genuine Fraud, The Disreputable History of Frankie Landau-Banks and a number of other novels.
Website
Twitter