Firstly I wish to thank Ross Greenwood for the invite and Caroline for the information at my fingertips for this Blog Tour FIFTY YEARS OF FEAR by Ross Greenwood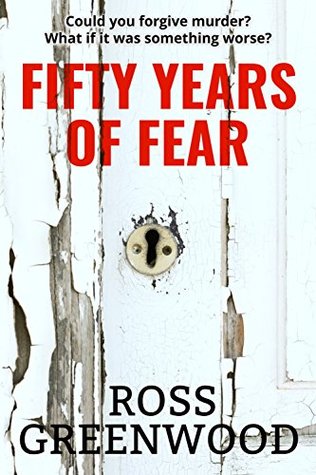 BOOK DESCRIPTION
A childhood accident robs Vincent of his memories, causing him to become sensitive and anxious around others. His differences attract bullies, and he comes to rely heavily on the support of his family.
After the devastating loss of his parents, a remarkable woman teaches him to embrace life, and, little by little, he realises the world is far more forgiving than he imagined. When fragments of his memory return, he begins to unravel his past.
Who was his mother? What kind of man was his brother, Frank? And why does death surround him?
Fate is cruel. History is dark. Things are not as they seem.
Perhaps he should've stayed at home.
Praise for Ross's books:
"At last a page turner novel that doesn't disappoint.."
"This is powerful and atmospheric storytelling.."
"Absolutely brilliantly written from start to finish"
Amazon UK: http://bit.ly/AmUK-FYF-RG
Amazon US:  http://bit.ly/AmUS-FYF-RG
HERE ARE MY THOUGHTS AND REVIEW
Having read and loved Ross Greenwood's previous two novels I thought I had some idea of the type of book I would be reading and although there is definitely the Ross Greenwood stamp on it this felt so more personal to the main character Vinnie. The story is told by Vinnie, born in 1966 it begins in 1980 when he is fourteen, living at home with his mum, dad and older brother Frank.
Where as Frank is more physical, Vinnie is more the sensitive type which seems to attract all the wrong sorts to have a go. You know the kind of lad, the ones that seem to have an invisible sign on their forehead that says 'Hit Me' that only the bullies can see. Frank on the other hand is more boisterous and jumps in with both arms and legs hitting out then asks questions later or should I say too late. Unfortunately through life it seems to cause more problems than solve them.
Vinnie is really a sweet guy, most of the time although there are at times a much darker side to him. Pretty much a loner, he does have relationships but the one stable person he does have is Frank who is always there when needed. This is a very deep and tragic story really where the conclusions that I made about some people were turned upside down. We associate people in our lives with the roles they play to us but people have many different roles in life.
As the story is told by Vinnie of course I only got the picture of how he saw events when he was growing up and the conclusions that he made of the things that he perceived of other people's actions and thoughts. This made for some pretty topsy-turvy times in places which made brilliant reading. There are some lighter moments in this story but not many. Sometimes life just deals all the grief in one direction, gives a little hope, then makes things worse. This is the world of Vinnie.
Ross Greenwood has again delivered characters that grow and change as life throws new situations that them, they adapt and change how they see people but mostly are unpredictable themselves. This story defines love in so many different ways and how far you will go to protect the people you care about the most. At times it is very primitive with reactions and definitely leaves you plenty to think about.
HERE IS A LITTLE ABOUT THE AUTHOR
Ross Greenwood was born in 1973 in Peterborough and lived there until he was 20, attending The King's School in the city. He then began a rather nomadic existence, living and working all over the country and various parts of the world.
Ross found himself returning to Peterborough many times over the years, usually, so he says "when things had gone wrong." It was on one of these occasions that he met his partner about 100 metres from his back door whilst walking a dog. Two children swiftly followed. And, according to Ross, he is "still a little stunned by the pace of it now."
Lazy Blood book was started a long time ago but parenthood and then four years as a prison officer got in the way. Ironically it was the four a.m. feed which gave the author the opportunity to finish the book as unable to get back to sleep he completed it in the early morning hours.
Ross Greenwood's second book, The Boy Inside, was picked up by Bloodhound Books, and now, Fifty Years of Fear, is out. All his books are thought provoking, and told with a sense of humour. Ross Greenwood hopes you enjoy reading them.  Please feel free to get in touch on http://www.rossgreenwoodauthor.com
Author Links
Author Website:   http://www.rossgreenwoodauthor.com
Facebook Author Page: https://www.facebook.com/RossGreenwoodAuthor/
Twitter:  https://twitter.com/greenwoodross
Fifty Years of Fear' Book Links
Amazon UK/US  Coming Sept 6th
'
Other Books by Ross Greenwood
Lazy Blood (Sept. 2016) Amazon UK: http://amzn.to/2pqxLfo
The Boy Inside (Febr 2017) Amazon UK: http://amzn.to/2uuGWRQ