I wish to thank Kelsey Butts for inviting me to read this book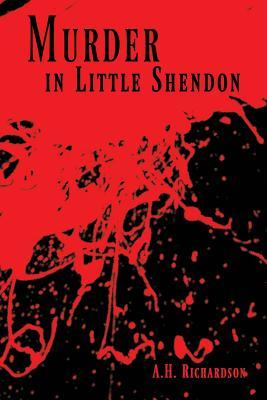 BOOK DESCRIPTION
The Hazlitt/Brandon series of murder mystery novels follows a pair of clever, colorful and charismatic sleuths – Sir Victor Hazlitt and Beresford Brandon – as they scratch their heads searching for clues to figure out whodunit.
The first book in the series, Murder in Little Shendon, is a thriller murder mystery which takes place in a quaint little village in England after World War Two.
Picture, if you will, a picturesque village called Little Shendon, suddenly caught up in dealing with a murder of one of its citizens — not a particularly well-liked one at that. Which makes it all the more intriguing because the list of suspects becomes very long. This tantalizing tale unfolds with twists and turns to find out whodunit to Mr. Bartholomew Fynche, the murdered shopkeeper.
Fear grips the community as the investigation slowly progresses. Everyone is interviewed; everyone is suspect! From his housekeeper to Lady Armstrong and her household staff. Or could it be the shy librarian new in town? Or the defiant retired army major and his ladyfriend, the post mistress? Or perhaps the weird sisters who live on the edge of town? Then there is the couple who own the local inn and pub, along with the two Americans who are staying there? Even the vicar and his wife fall under the gloom of suspicion.
Uncertainty, wariness, and terror reign as neighbors watch neighbors to discover the evil that permeates their upturned lives. No one feels safe in this charming little village. Who is the murderer? And why was this strange uncivil man dispatched in such a seemingly civil community?
A murder mystery that will keep you reading until you learn the details, uncovered by Police Inspector Stanley Burgess and his two amateur detectives, Sir Victor Hazlitt and Beresford Brandon. The three sift methodically through the Alibis and life stories of the suspects until they uncover…
You are challenged to discover the culprit before the last few pages. And no fair looking ahead — it's the journey that proves the most enticing.
HERE ARE MY THOUGHTS AND REVIEW
This is a real classic whodunit story set in my favourite era, just after WW2. I could just picture this lovely little village where everyone knows everyone else's business if the right questions are asked and boy do they need asking!
Mr. Bartholomew Fynche, a village shopkeeper has been brutally murdered with someone using tremendous force, the only thing is no one really liked him, although you shouldn't speak ill of the dead. What follows is an intense investigation into the murder and just as much work in proving the prime suspect innocent. Sir Victor Hazlitt and Beresford Brandon are the super sleuth pair playing investigators along side the real thing in the form of Police Inspector Stanley Burgess. Every stone is upturned and every person, in the once was sleepy village, interviewed.
This is a super read but keep all the characters clear in your mind as there is an abundance of them. As this is the first book in a new series it felt like it was quite an introduction to all the players not just in this book but a little background on people who were going to front books in the future too. The timid and shy to the gossips. Loved how Sir Victor Hazlitt and Beresford Brandon worked together to coax the information from the people that were unaware that their bit with other bits told a story of murder.
I already feel at home with all the characters, well the ones that are left, the demise of Mr. Fynche isn't the only murder to take place  but to find out the whys and not only who else will die there is of course the murderer to discover too. A super brilliant ending. So looking forward to visiting Little Shendon and this crime solving trio again very soon.
HERE IS A LITTLE ABOUT THE AUTHOR
A. H. Richardson was born in London England and is the daughter of famous pianist and composer Clive Richardson. She studied drama and acting at the London Academy of Music and Dramatic Art. She was an actress, a musician, a painter and sculptor, and now an Author.
She published her debut novel Jorie and the Magic Stones, a children's chapter book, in December 2014. At the request of those who loved the first 'Jorie' story, Richardson has written a sequel titled Jorie and the Gold Key, and she is currently working on the third book in the series.
A.H. Richardson also enjoys writing murder mysteries and who-dun-its. She is the author of the Hazlitt/Brandon series of murder mystery novels. The series follows a pair of clever, colorful and charismatic sleuths – Sir Victor Hazlitt and Beresford Brandon. The series includes Murder in Little Shendon, Act One, Scene One – Murder, and Murder at Serenity Farm.
A. H. Richardson lives happily in East Tennessee, her adopted state, and has three sons, three grandchildren, and two pugs. She speaks four languages and loves to do voiceovers. She plans on writing many more books and hopes to delight her readers further with her British twist, which all her books have.
Readers can connect with her on Facebook, Twitter, and Goodreads.