I wish to thank Kathryn Lynch of Source Books for inviting me to read and review this book.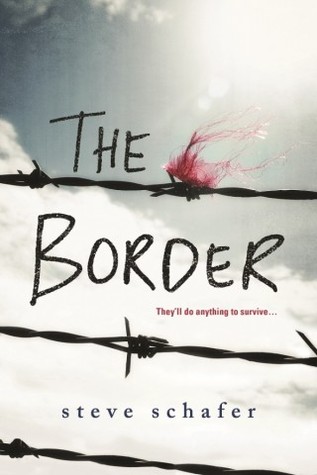 BOOK DESCRIPTION
A band plays, glasses clink, and four teens sneak into the Mexican desert, the hum of celebration receding behind them.
Crack. Crack. Crack.
Not fireworks―gunshots. The music stops. And Pato, Arbo, Marcos, and Gladys are powerless as the lives they once knew are taken from them.
Then they are seen by the gunmen. They run. Except they have nowhere to go. The narcos responsible for their families' murders have put out a reward for the teens' capture. Staying in Mexico is certain death, but attempting to cross the border through an unforgiving desert may be as deadly as the secrets they are trying to escape…
HERE IS MY THOUGHTS AND REVIEW
There was much to celebrate as the different families came together for the birthday party of a fifteen year old girl. While the party was in full swing four of the young adults, Pato, Arbo, Marcos and Gladys sneak off for a smoke away from the eyes of their parents. When they hear sort of cracking noises they recognise it for gun fire and soon discover that all of their families have murdered execution style and the men responsible for the killings are still there. Marcos manages to get a gun from the house and a mini shoot out takes places between them and the bad guys. Finally the four manage to escape but not without this gang knowing who they are. They use the media to help to track them down as 'missing children'. It really is game on as nothing seems like it will stop the narcos from hunting them down and finishing the job they began, to wipe all the families out!
There is only one solution for these traumatized kids and that is to make the perilous journey across the desert border between Mexico into the USA. A journey that takes a huge amount of lives each year from the elements, bandits and gangs roaming on the USA side also ready to take them down. This is a really touching story where a couple of the kids have to face a reality of their families lives that they never knew about.
This story puts four very traumatized kids into the situation of having no choice but to cross the border into the USA to literally try to save their lives as going back is certain death. The story though tells of the dangers that face hundreds of Mexicans each year while trying to enter America illegally.
Steve Schafer gives a very realistic account of the perilous journey made between Mexico and America through these four young and very naive teenagers. From the time their families were wiped out they have quickly transformed from children to adults. They are the ones that have to make all the decisions now. They have all had to face losing their families and it has formed a reluctant bond between them if they are going to survive they need each other.
This is a very fast paced story that gets straight into the action, the chase and then at a slower pace, but one of the most intense times, the journey crossing of the border. A story mixed with fact and fiction brilliantly told that will suit mid teens as a real gripping read and older readers as a fascinating story.
I wish to thank the publisher for an ARC of this book which I have reviewed fairly and honestly.
HERE IS A LITTLE ABOUT THE AUTHOR
Steve Schafer has a Masters in International Studies from the Lauder Institute at the University of Pennsylvania and an MBA from Wharton. He grew up in Houston and has since had the privilege to live, work, volunteer, and travel internationally. The bulk of this experience has been in Latin America. His debut novel, The Border, was acquired by Sourcebooks Fire imprint and will be released September 5th, 2017. Steve lives near Philadelphia with his wife and two kids.

HERE ARE SOME LINKS FOR THE AUTHOR
Website
Twitter