This is a Reblog of my original post from last year. Louise Jensen's book is now available as a paperback, so huge congratulations to her and Bookouture.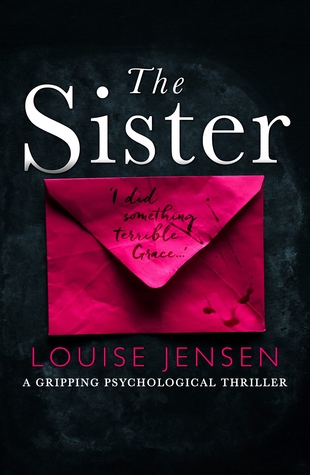 BOOK DESCRIPTION
Grace hasn't been the same since the death of her best friend Charlie. She is haunted by Charlie's words, the last time she saw her, and in a bid for answers, opens an old memory box of Charlie's. It soon becomes clear there was a lot she didn't know about her best friend.
When Grace starts a campaign to find Charlie's father, Anna, a girl claiming to be Charlie's sister steps forward. For Grace, finding Anna is like finding a new family, and soon Anna has made herself very comfortable in Grace and boyfriend Dan's home.
But something isn't right. Things disappear, Dan's acting strangely and Grace is sure that someone is following her. Is it all in Grace's mind? Or as she gets closer to discovering the truth about both Charlie and Anna, is Grace in terrible danger?
There was nothing she could have done to save Charlie …or was there?
HERE ARE MY THOUGHTS AND 5 STAR REVIEW
What a tremendous debut novel this is. An excellent story line and perfect presentation with an eye-catching cover. When a reader buys a book it is because of two things. The first being recommendation via reviews or word of mouth and secondly because a book catches your eye. Well this novel scores high on both, as the story is very intriguing and the cover is a wow!
The story is told by Grace as she goes back and forth between when she met her best friend Charlie and present day after Charlie's death. This book just got me from the beginning as I put myself in Grace's shoes. Would I have been able to move on with my Life? No I would have taken Grace's path. A need to know why things had turned out like they had and if tragic events could have been prevented.
The story tossed me about as I thought I had worked everything out only to have a new element present itself. I just loved it. A novel to keep me on my toes especially the last 25% where everything seemed to come together, fall apart and take off again. Excellent Stuff!
I wish to thank Netgalley and Bookouture for allowing me to read this book in exchange for an honest review.
ABOUT THE AUTHOR
Louise Jensen
Louise lives in Northamptonshire with her husband, children, madcap spaniel and a rather naughty cat. The Sister is Louise's debut novel.
Louise loves to hear from readers and writers and can be found at http://www.louisejensen.co.uk, where she regularly blogs flash fiction