Firstly I would like to thank Kim Nash and Bookouture for inviting me on this Blog Tour for REPORTED MISSING by SARAH WRAY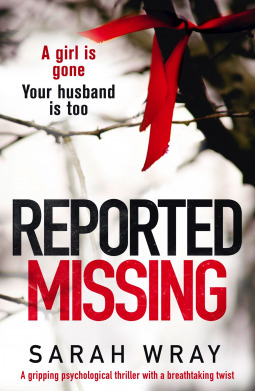 UK 🇬🇧 http://amzn.to/2qvqOv2
US 🇺🇸 http://amzn.to/2pTkYCu
BOOK DESCRIPTION
Four months ago, Rebecca Pendle's husband disappeared. So did 14-year-old Kayleigh Jackson.
Just a coincidence? Rebecca wants to believe so… But as the police start to draw parallels between Chris and Kayleigh, it's getting harder for her to trust his innocence.
Faced with an angry town that believes Chris has abducted the teenager, Rebecca tries to discover the truth.
But what she finds shocks her more than she ever thought. How well does she really know the man she loves?
A completely gripping, suspenseful thriller, with a shocking twist. Fans of Louise Jensen, K.L Slater and The Girl on the Train will be hooked until the very last page.
HERE ARE MY THOUGHTS AND REVIEW
Rebecca Pendle is depressed but it is very understandable because 4 months ago she had a lovely house, a job, an husband and money in the bank but now she lives in a caravan, hanging by a thread with her job, a missing husband and escalating debt! To top it all off though on the same day as her husband disappeared so did a 14 year old girl from the small seaside town where they lived. Neither of them had been seen since. What a difference a day can make. Just one day and none of it was her fault, she was just collateral damage left behind in the whole scheme of things.
This is such a hard hitting and powerful story about Rebecca, the kicking post for a town that didn't have any answers to where her husband Chris and the young girl Kayleigh were. Had he abducted her or worse? Were they even connected to each other? I mean surely the wife knew something was going on. All the normal assumptions that people that haven't got a clue make.  Rebecca was constantly tortured mentally and physically by a gang of teenagers, friends of the missing girl and shunned by a town that should have known better. The whole story is very heart breaking in so many ways.
There is no escape for her, she is determined to be there if or when he comes home and also for her mother in the care home in the town suffering from dementia.  There are some very touching moments that even with her mum being in such a state she could still find comfort and protection just by being near to her. Rebecca battles with bouts of hiding away and throwing herself into some rather dodgy situations in order to find out the truth. Some of which she wishes she could undo and never know. As the story progresses the pace quickens along with the tension.
I really enjoyed this story that high lighted the innocent victims by association of a suspected crime, looked at from different angles including the police investigation.
I received a copy of this book from the publisher, this is my honest and unbiased review.
HERE IS A LITTLE ABOUT THE AUTHOR
Sarah Wray is originally from Yorkshire but now lives in Newcastle-upon-Tyne where she works as a technology writer and editor. She won a Northern Writers' Award (Arvon Award) in 2015 for an early version of her first novel.
https://www.facebook.com/sarahwraywrites/
http://www.sarahwraywrites.co.uk/
Twitter @Sarah_Wray