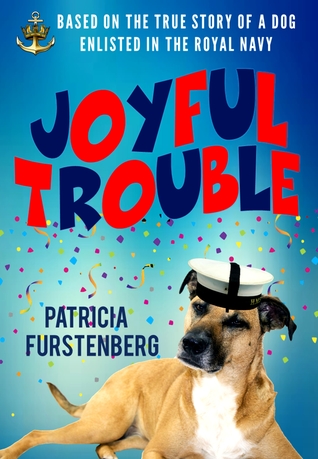 Independently Published with Kindle Direct Publishing
ISBN: 978-1521089576
ASIN: B07227P973
Publication date: April 17, 2017
180 pages
Target audience: 6-10
Genre: Children,s, animals (dogs), historical (Africa)
BOOK DESCRIPTION
A humorous read about an incredible dog and how he had found his true, yet unexpected calling.
A dog. A friendship. A purpose.
When a Great Dane arrives in a navy base nobody expects him to win everybody's hearts, although breaking some rules along the way. But things soon turn sour as somebody threatens to put him to sleep. Who will stand up for this for-legged gentle giant?
Tackling universal themes and voicing animal rights and the importance of fighting for what is right.
HERE ARE MY THOUGHTS AND REVIEW
Set in South Africa this is a wonderful uplifting children's story which can be read by the child independently or by an adult to be listened to.
Tommy age 4 and Ana age 9 have gone to stay with their grandparents which just happens to be at the same time as the town's 1st April Parade, a yearly event that celebrates the life of Joyful Trouble, a Great Dane that lived in Simon's town through most of WW11.
Grandad takes the children to the parade, where great danes happily march down the road with their proud owners. That night Ana asks grandad to tell her and Tommy about how he first met Joyful Trouble and what begins as one story becomes a string of heart warming  adventures and at times mischievous and very funny cappers that this very special dog got up to and grandad too of course.
I won't tell you about these because I want you to fall in love with this unique dog and this lovely man that is the children's grandad. They are both very special. I loved these little stories myself, how Patricia Furstenberg descriptions are so simple and yet capture the whole essence of the love most of the town felt for this dog. Of course there is always 'the Jobs Worth' that won't bend the rules but where there is a will there is a way. The name Joyful Trouble just sums this lovely dog up perfectly.
Reading this book brought back sweet childhood memories of times my mother would tell me and my brother bedtime stories of when she was a young girl. It warmed my heart. A super book to be enjoyed by any age.
HERE IS A LITTLE ABOUT THE AUTHOR
Patricia Furstenberg came to writing though reading, her passion for books being something she inherited from her parents. She usually writes at her kitchen table, early morning while the kettle hums or in her car, while she waits for her children to come out from school. "When I write, I write," she usually says. When she's not writing she likes to read, listen to music, dance and bake.
One of the characters portrayed in her children stories is Pete, the yellow toy elephant. Not many know, but Pete exists and lives in Pat's home.
This Romanian born writer is living happily with her husband, children and dogs in sunny South Africa.
Patricia Furstenberg Author Page and Blog: http://alluringcreations.co.za/wp/