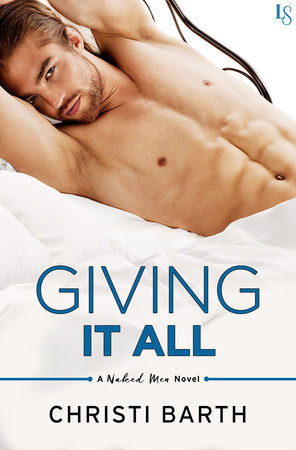 BOOK DESCRIPTION
Christi Barth's smoking-hot contemporary romance series continues as the five best friends who survived a tragedy as teenagers take to their Naked Men podcast to open up about women. In Giving It All, the group's globe-trotting hunk discovers that you need to go home to find love.
 
Logan Marsh never stays in one place for long. Through his family's foundation, Logan spends his days traveling to the world's most dangerous places to deliver disaster relief, which really puts a damper on his sex life—until he reconnects with his high-school crush. Stranded together in the Caribbean, they enjoy a steamy fling that awakens feelings Logan has ignored for too long. But family drama calls him away from her sweet embrace . . . or so he thinks.
Brooke Gallagher loved being a home economics teacher and cheerleading coach. Then an unexpected tragedy forced her to take some time off. Now she's back in D.C. and despite the intensity of her tropical encounter with Logan, she's shocked to bump into him again. Logan's dealing with his own issues (including a newly discovered half-sister) and he's itching to get back on the road. More than anything, Brooke wants to be there for him. But first, he has to decide if love is enough to keep him in one place.
MY THOUGHTS AND REVIEW
I was so super excited when I heard that the third book in this series was being published, as I had read the first two  and loved them. The second book, Wanting it all, did not really end easy but with a dark cloud over Logan, on the other side of the world at some disaster zone, reeling at the thought of having gained a grown up sister and worse still one of his best friends was sleeping with her. This is Logan's story and boy from the start you know it is going to get passionate and emotional on so many levels.
To say that these five blokes are a pretty amazing group is far from doing them justice. They are all wealthy, definitely easy on the eye and very reliant on each other. And of course they all live together (although Logan is away a lot saving lives when a disaster occurs). In this book more is revealed of the tragedy that bonded them in college, when they were mere 16 and 17 year olds this all goes to understanding how they tick even more.
When Logan bumps into an old college friend, Brooke,  while travelling home to confront his 'so called sister' and best mate, an Hurricane halts them in their tracks and brings them somewhat closer to what they were all those years ago. Both have decided that they do not want any commitment and go their separate ways. But fate isn't done with them yet!
Christi Barth delivers yet again a brilliant love story where another of this special group of men has to face whether he can learn to forgive himself, live, love and feel without guilt. I really enjoy the interaction and banter this group of men have, especially when doing the Naked Men Pod Cast. It is like these men have not been able to thaw out from that time they were in the Italian Alps until they meet the right girl, then they melt.
I wish to thank Loveswept for inviting me to read this book through Netgalley. Yet again it has been a huge pleasure.
A LITTLE ABOUT THIS AUTHOR
CHRISTI BARTH earned a Masters degree in vocal performance and embarked upon a career on the stage. A love of romance then drew her to wedding planning. Ultimately she succumbed to her lifelong love of books and now writes award-winning contemporary romance, including the Naked Men and Aisle Bound series.
Christi can always be found either whipping up gourmet meals (for fun, honest!) or with her nose in a book. She lives in Maryland with the best husband in the world.
Facebook.com/christibarthauthor
Twitter.com/Christi_Barth
Instagram.com/christibarth
Pinterest.com/singups84498/join
christibarth.com
THE OTHER TWO BOOKS IN THE SERIES
Risking it all
Wanting it all