I have been reading K. R. Griffiths novels for quite a while now and just love the whole lot of them. His first series The Wildfire Chronicles consist of 7 books and novellas in total which just bowled me over and I was hooked. Survivor was a stand alone and what a story!
This today is more of a recap about his current series Adrift
                                  ADRIFT
For artist Dan Bellamy and his new bride Elaine, a trip on the world's biggest, newest cruise ship represents more than just the honeymoon of a lifetime: it is also a celebration of the progress Dan has made toward beating the agoraphobia that has plagued him since he suffered a horrific knife attack two years earlier.
The ship is a perfect floating paradise, but when Dan spots what he thinks is a body being thrown overboard, he begins to suspect that not everybody aboard the Oceanus is there for a vacation.
Soon, Dan will discover that there are some things worse than murder, and the body he saw is just the beginning. Because something is coming for the passengers on the Oceanus.
Something that isn't supposed to exist…
HERE ARE MY THOUGHTS AND REVIEW
I have already read the Wildfire Chronicles which were superb, but this book takes you on to a new level, totally outstanding. There is no holding the punches with horror starting immediately. At first I thought is this some sadistic serial killer duo? The characters are real and the feeling of despair with a hint of hope heart stopping. With such an exceptional writing style it isn't words you are reading but a clear motion picture running in your mind. Make sure you have time to read this story as you just won't want to put in down. So need a follow-up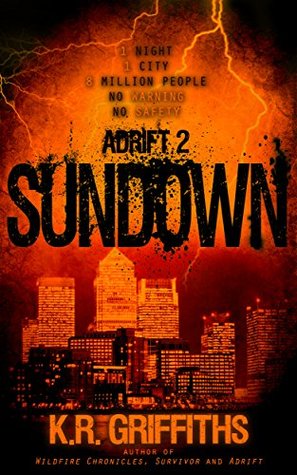 Having survived the massacre aboard the doomed cruise ship Oceanus, all Dan Bellamy wants is peace; a chance to go home and attempt to put his life – and his mind – back together.
He's not going to get it.
Dragged back to the UK by the remaining members of the Rennick family, Dan finds himself once more pitched into a nightmare. Vampires are rising, gathering in force for an assault on London which could blow the secret of their existence wide open, and Dan's captors are convinced that he alone holds the key to defeating them.
Dan knows he has some strange connection with the creatures. Trouble is, as chaos erupts on the streets and the bodies begin to pile up around Dan, it looks like the vampires know it, too…
HERE ARE MY THOUGHTS AND REVIEW
I was so looking forward to this book after reading Adrift and the wait was worth every second. I don't ever want to go out in the dark again, which is difficult as I work nights, and on my family trips to London and traveling on the underground will be done with my heart racing until we get off! Mr. Griffiths has an uncanny ability to capture every second of fear in his writing and make you feel as if you are there. The description of slow scraping of talons on glass still somehow makes my ears hurt.
The first chapter in this book opens at an archaeological dig in Northern Kentucky U.S.A. in 1999 and the discovery of an alien type creature that has been killed by a man. The story then switches to Dan Bellamy and Herb Rennick exactly where we left them in Adrift.
The tides have changed, the rules have been broken and consequences will have to be faced. The vampires, not your run of the mill creatures you may have read about before, are rising from the depth of earth and causing death. They enjoy seeing pain, they like to play with their food and London is a perfect play ground for their entertainment.
I really liked the introduction of Conny who works for the British Transport Police and her dog Remy, a German Shepherd who's speciality is crowd control. They make a dynamic duo in the story.
If you enjoy a rollercoaster read this is a definite must read. It has all the heart stopping moments, you will hold you breath, look over your shoulder and jump at every noise. Already waiting to click on the next episode of this brilliant book.
Congratulations Mr. Griffiths, this is awesome.
A LITTLE ABOUT THE AUTHOR
K.R. Griffiths is the author of ten books, including the six-part zombie apocalypse series Wildfire Chronicles, serial killer horror Survivor, and the ongoing Adrift series. His novels Panic, Survivor, Last Resort, Adrift and Adrift 2: Sundown are all former Amazon horror number 1 hits in both the USA and the UK. His forthcoming novel Adrift 3: Rising is scheduled for release on September 27 2016, and is available for preorder now.
Griffiths is a former journalist and editor, and maintains an unhealthy obsession with all things horror-related. He lives in the UK with a cat, and an imagination that sometimes concerns even him.
Subscribe to K.R. Griffiths' mailing list at http://bit.ly/1TgwQ8E to be the first to discover new releases, launch-day discounts, and receive a free annual subscriber content.
http://www.facebook.com/KRGriffiths1
@KRGriffiths1
 THIS MONTH THE THIRD BOOK IN THE SERIES IS DUE TO BE PUBLISHED AND I AM SO VERY EXCITED ABOUT IT. SO WATCH THIS SPACE FOR THE REVIEW!
AVAILABLE 27th SEPTEMBER