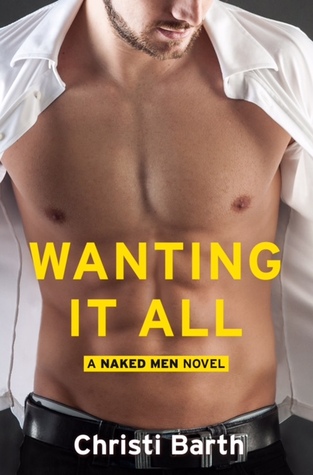 After narrowly surviving a bus crash in high school with his best friends, science geek Knox Davis resolved to become so successful that he could have anything and everything he wants. Now he's über-wealthy, a huge business success, and a notorious ladies' man. Knox refuses to limit himself to one woman, but when his latest conquest—a blond beauty from the Alaskan bush—challenges his superficial ways, Knox begins to see the world through her eyes, and finds he likes what he sees.
A nurturer at heart, Madison Abbott wants to put down roots. She left Alaska to meet Mr. Right—and to track down Logan, the half-brother she's never met. Instead, she finds Knox. Although the sexy-as-sin bachelor may not seem like marriage material, Madison's starting to think that Knox is The One. But Knox refuses to settle down, especially once he learns that Madison is his best friend's little sister. Now it's up to her to convince Knox that she's everything he really wants.
MY THOUGHTS AND REVIEW
How excited was I to be contacted by Loveswept to read the second book in The Naked Men Series. Just loved the first book Risking It All and well this book just lived up to what I was hoping for. Now everyone needs to calm themselves down. The Naked Men are not really naked, but it is the name of their Pod Cast where they reveal their feelings and bare their hearts and souls, telling each other about topics men don't normally talk about.
There are 5 men that have grown up together, had a near death experience and survived together and now watch each others backs and live together. Things are changing though because this is now the second time that one of them have met their match in the form of a woman.
Madison Abbot is a mint character, very strong willed with super " can't budge me morals " that blow Knox Davies off his feet. This simply isn't how his relationships work.
Christi Barth makes me sigh and woop in all the right places and brings a smile to my face when these big burly men just don't know how to deal with these new women in their lives. I really loved the teasing from Christi Barth about Logan too.
I wish to thank Loveswept and Netgalley for allowing me to read this book in exchange for an honest review.
MORE BOOKS IN THE SAME SERIES BOOK 1
Who doesn't love Naked Men? In Christi Barth's irresistible series, a group of close-knit friends talk out their problems with naked honesty on a popular blog. Bonded by a high-school tragedy, they're moving on from the past—and fighting for the future with strong and sassy women.
Griffin Montgomery helps people. As a teenager, he kept his best friends alive after their soccer team's bus crashed in the Alps. Now, as a Coast Guard search and rescue pilot, he saves lives with reckless abandon—until he goes too far and earns a lengthy suspension. Working on the Naked Men projects keeps his mind busy, but Griff's itching to get back in the action. That's when he finds his latest rescue mission: a pretty wallflower who's stuck in her comfort zone.
Chloe Widmore doesn't take risks. As a professional letter writer, she gets enough excitement out of expressing other people's emotions. So when the hottest man she's ever seen invades her coffee shop, Chloe surprises herself with how much she wants to be with him. Routines make her feel safe. Griff makes her deliciously unsafe, in so many ways. But falling for him is one risk she might just have to take . . . whether she's ready or not.
Kindle Edition, 271 pages
HERE IS A LITTLE ABOUT THE AUTHOR
Christi Barth earned a Masters degree in vocal performance and embarked upon a career on the stage.
A love of romance then drew her to wedding planning. Ultimately she succumbed to her lifelong love of books and now writes contemporary romance.
Christi lives in Maryland with her husband.
HOW TO CONTACT CHRISTI BARTH
Twitter @christi_barth
Facebook Christi Barth@author